Last updated: January 3, 2018
A good round-up of what's happening in the paper industry, American Reams by David J. Unger appears here. It's subscriber-only; an extended excerpt was published by The Guardian.
Some industry associations offering current stats and background data:
The Elevator Pitch for the Future of Paper

1. The paper industry is in the midst of monumental worldwide change. The combination of reduced demand in North America along with the increased supply (and demand) of cheap paper from overseas has dealt great harm to a formerly-powerful North American industry. The North American and EU paper markets are being hard-hit by low-price imports, primarily from Asia.
2. The decline in demand for certain grades of papers, particularly newsprint, is causing economic disruption in the paper manufacturing industry, the effects of which spill over into other papers as well.
3. With the decline in the consumption of printed materials there has been a commensurate drop in pricing. The effect compounds. Paper manufacturing is a demanding, capital-intensive and low-margin industry, and when prices drop too low, it is simply no longer cost-effective to manufacture paper. (Industries with higher margins and different cost structures can manufacture at cost, just to cover overhead. This is not the reality for the paper manufacturing business.)
4. Like most other industries, paper manufacturing is now concentrated among a relatively small number of companies, and so the negative effects spread rapidly and mostly evenly across the board. There are no young and innovative firms in this industry, and perhaps modest opportunities for innovatively addressing the current challenge.
5. The supply of paper, in its many different types and grades, has become uncertain. Print publishers find themselves increasingly challenged to know how to price their product, confirm their publication schedules – indeed how to operate their businesses in a profitable and predictable fashion. The secondary effect is to encourage publishers to print overseas, particularly in China.
6. There is an enormous groundswell toward the use of "eco-friendly" papers in the printing industry, and concomitant with that trend is an ongoing exploration of more broadly reducing paper consumption, through reduced trim sizes, lower press runs, and less expensive stocks.
Summary of the Future of Paper
I think we all have a pretty good idea of what paper is, but why not start out with some basic information, pulled from The Canadian Encyclopedia: "The pulp and paper industry comprises manufacturing enterprises that convert cellulose fiber into a wide variety of pulps, papers and paperboards. About 95% of their fiber comes from wood from forests, the balance from wastepaper and a very small quantity of linen and cotton rags. Wood is reduced to fiber by mechanical means or by cooking in chemicals. The fibers are then mixed with water, adhering to one another as the water is removed by pressure and heat. This is the fundamental principle of papermaking, discovered by the Chinese nearly 2000 years ago and brought to Spain by the Moors, probably during the 12th century.
"Papermaking today is a large, capital-intensive industry, characterized by high-speed machines and complex systems of control for manufacturing to close tolerances thousands of products vital to education, communications, marketing, packaging, construction, etc. Canada today ranks second to the US in pulp and paper manufacture, and first in pulp and paper exports…"
It must sound obvious to say, "Paper is the lifeblood of the traditional publishing industry" As obvious as it is, I know from my years in publishing that too many in the industry overlooked the fortunes of this precious commodity as they pondered other issues impacting their future in the publishing business.
All of this has changed in the last five years as demand for paper has dropped precipitously in North America and Europe. Traditional the Western nation consumed far more than their share of paper. According to the Worldwatch Institute (PDF file) the average U.S. citizen uses more than 300 kilograms of paper annually…People in developing countries, in contrast, use only 18 kilograms of paper a year on average—in India, the figure is 4 kilos, while in 20 countries in Africa, it's less than 1 kilo." Meanwhile, as reported in The New York Times, "In the richest countries, (paper) consumption fell 6 percent from 2000 to 2005, from 531 to 502 pounds a person." While demand in India and (to a lesser extent) China is exploding, this is not sufficiently offsetting the decreasing demand of the paper hogs in the West.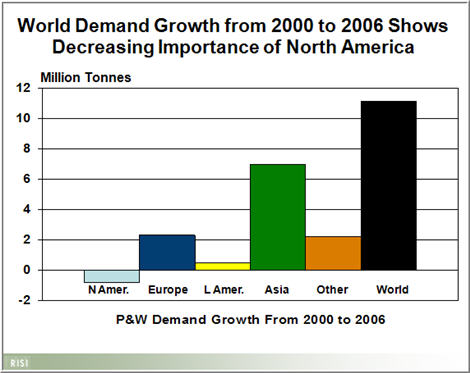 The Signs Were Misread for the Future of Paper
The paper industry remained strong throughout the 1990s and into the new millennium, leading many observers to conclude that not only was the Internet and the Web not the death-knell of print, but rather a call for its resurgence. A 1999 report from PaperCom noted that "between 1990 and 1998, annual paper consumption rose from 86.8 million tons to 99 million tons, according to the American Forest and Paper Association. Not only has overall paper consumption markedly increased, but usage has soared in many specialty areas.… Mail volume rose from 166.4 billion pieces in 1992 to 199.9 billion in fiscal 1998. (U.S.) Postal Service revenue increased from $44.7 billion to $60 billion during this period."
As recently as 2003 the Conference Board of Canada was confidently expressing enormous optimism about the future of the Canadian paper industry. Only in the last two years has it admitted doubts and acknowledged disappointing sales figures. A report in the Conference Board's Canadian Industrial Outlook: Canada's Paper Products Industry—Autumn 2006 noted that "the struggling pulp and paper sector lost a record $1.4 billion in 2005 and will lose money again in 2006.
"The industry is dealing with a string of mill closures, a strong Canadian dollar and competition from new countries that are entering the global market," said Michael Burt, Senior Economist. "Although profits are expected to recover beginning in 2007, this industry will remain very fragile in the short term."
Problems Plague the Paper Industry
Although the often quoted "death of print" has proven far off target, the large pulp-and-paper multinationals have been hit hard in the electronic age, especially in North America.
The demand for many types of paper is declining, although paper prices have been kept afloat to some extent by mill closures and the forced shrinkage of available capacity. Newsprint has been hit the worst, as circulation and classified advertising at North American newspapers continues to fall and most papers have fewer pages (and often smaller pages as well).
According to The Economist "the only grade of paper immune to technological substitution is tissue." Indeed several paper companies have retreated altogether from print paper.
The chart below from Natural Resources Canada illustrates the complex interaction between plant closures, capacity decreases and newsprint prices.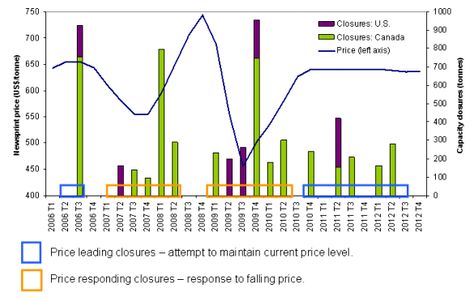 Globalization
Globalization is proving a double-edged sword, as cheap imports from South America, Russia and China are displacing Canadian and U.S. suppliers. China has recently gone from a net importer to a net exporter of newsprint, although the U.S. has now found China guilty of "dumping" paper in the U.S. at subsidized prices.
A March 30, 2007 press release from the U.S. Department of Commerce announced "its preliminary decision to apply U.S. anti-subsidy law to imports from China." This is the first time countervailing duties will be imposed on imports from a non-market economy. The decision alters a 23-year old bipartisan policy of not applying the countervailing duty (CVD) law to non-market economy countries, and reflects China's economic development.
The same press release noted that "from 2005 to 2006, imports of coated free sheet paper products from China increased approximately by 177 percent in volume, and were valued at an estimated at $224 million in 2006."
As is seen in other businesses impacted by globalization, the paper industry must now be analyzed on a worldwide basis. While the North American industry is shrinking, the worldwide market is growing. According to Pöyry's World Paper Markets 2020, "world demand for paper and paperboard is forecast to grow by 2.1% annually in the long term, reaching an estimated 490 million tons by the year 2020." Countries such as India and China show vastly increasing demand for paper for books, newspapers and periodicals. While this may not benefit North American or EU suppliers, the growth is real and steady.
The Fast-Changing Demand for Paper Grades
With publishing coming under increasing profit pressure, more publishers are pushing paper mills to provide less-expensive stocks at quality levels that equal, or nearly equal, those they replace. The mills are struggling with some success to reduce basis weight (and paper cost) without a commensurate reduction in opacity and durability.
In the midst of this changing demand, a larger force is moving the paper industry: the demand for "eco-friendly" papers, and papers with longer durability than existing stocks.
Harry Potter, ever the trend-setter, is setting new trends in paper demand as well. As was widely reported, for the seventh and final Harry Potter book in the United States Scholastic (Potter's U.S. publisher) purchased nearly 22 million pounds of paper certified by the Forest Stewardship Council — the largest purchase of the paper to be used in a single book printing to date.
Scholastic committed to making sure that 65 percent of the 16,700 tons of paper used is FSC-certified, which means the paper comes from forestlands managed in a socially and environmentally responsible way. All the paper used in the printing was promised to contain at least 30 percent post-consumer waste fiber, which meets FSC standards.
According to a report by Adam Dewitz in PrintCEO Blog "using Markets Initiative's Ancient Forest Friendly paper, the English-language editions of Harry Potter and the Deathly Hallows will save 197,685 trees and 7.9 million kilograms of greenhouse gases."
On April 3, 2007, Montreal-based Transcontinental Printing's Book Group announced a new paper made from 100% post-consumer recycled material, with this new offering made available at price parity with similar conventional stock. Many of the larger book printers in North America have followed with similar announcements. (Quebecor, a printing company somewhat more diversified than Transcontinental, announced the following day that it would "urge the company's 1.6 million [Videotron cable] customers to do something practical for the environment by switching to online billing." This move, it reported, "could save up [to] tens of tonnes of paper. Moreover, for each Videotron customer who decides to subscribe to online billing, the Earth Day – Québec organization will plant a tree here, in Québec.")
Industry reports indicate that an ever-increasing number of publishers, both in North America and the EU countries are encouraging the eco-paper trend.
The Forest Stewardship Council (FSC)
Established in 1996, and headquartered in Bonn, Germany, the Forest Stewardship Council is fast becoming one of the major drivers behind paper selection today.
Because of their high public profile (or that of their authors), book publishers (as well as periodical publishers) are driving the move towards "eco-friendly" papers, and FSC certification is one of the best-recognized means to show the reading public strong support for this trend. The FSC's agenda is very broad, including, for example, "Indigenous People's Rights" and "Community Relations and Workers' Rights." Perhaps as a result, its demands on paper consumers are less onerous than other key initiatives for paper reuse and conservation. Nonetheless, the FSC is driving media and industry focus to paper usage, and that in itself is a potent force.
Other "Eco-Friendly" Paper Groups
Beyond the FSC there are a plethora of increasingly visible and high-powered organizations pushing towards a more eco-friendly footprint. Among the better-known:
1. The Institute for Sustainable Communication
"The Institute for Sustainable Communication (ISC) is a nonprofit organization dedicated to developing leaders that can implement proven, practical and measurable policies at a corporation's operational level by implementing best practices for enterprise communication. Our particular expertise and focus is on enterprise publishing, printing and packaging. The ISC staff, advisors and fellows bring decades of experience and acknowledged industry expertise to this mission."
Don Carli, who founded and operates this non-profit group, is associated with the catchy phrase "Is green 'the new black' for corporate America?" In a June, 2007 interview on National Public Radio, and reported on PrintCEO Blog Carli said "that sustainability has advanced from being a fringe idea on the margins of marketing to a stage where it is now recognized as the central focus of marketing communications and advertising." Carli warns those who would "greenwash" false displays of environmental concern. "Savvy consumers," he said, "won't be fooled: We live in a world that is one mouse-click away from exposure."
The ISC also worked with the influential American Institute of Graphic Arts (AIGA) to produce a detailed report Responsible Enterprise Print at the American Institute of Graphic Arts. Altogether, ISC examined thirty-seven different print projects representing 540,000 individual printed pieces, including office-related printing, produced by and for AIGA from June 2004 through the end of May 2005. The result is a series of recommendations in keeping with the ISC mandate.
2. The Sustainable Advertising Partnership
The Sustainable Advertising Partnership (now defunct) mission was to establish an inclusive non-political coalition of advertisers and their supply chain and media partners, dedicated to raising awareness and fostering the widespread adoption of practices that address climate change and the challenges of sustainability. Membership is available to advertisers, publishers, print, television, internet and other paid media outlets, ad agencies, production companies, printers, paper companies, news stand distributors, retailers, non-governmental organizations and other stakeholders and supply chain partners.
What's Next for Paper?
A recent blog entry on RISI, titled "World newsprint prices soar as producers battle for survival," zeroes in on paper's problematic future: "…global newsprint demand retreated 1.2% in 2007, dragged under by weak demand in western Europe and a double-digit decline in North America. Further weakness in North America and western Europe, combined with the downward pressure from moderating global economic growth, will prevent world newsprint demand from staging any rebound in 2008."
Yet even more tragically, like many parts of the broader publishing industry, a vicious circle begins to form that accelerates the decline. As the RISI report continues, "Despite the lack of growth in global demand in 2008, rising production costs and the rapid tightening of supply has pushed newsprint prices sharply higher in most world markets. The financial collapse of the newsprint industry in 2007 has led to unprecedented levels of capacity closures. Compared to 2007, global newsprint capacity is expected to drop 2.6% in 2008, representing a single-year record reduction of 1.1 million tonnes of newsprint supply from the world market."
So in the struggle for survival, newsprint and other paper suppliers are forced to reduce capacity to support prices, while the demand for print, already declining, will only be exacerbated by the impact of these increased costs.
Is the paper industry in a death spiral?
References
1. "CEO perspectives: Viewpoints of CEOs in the forest, paper & packaging industry worldwide"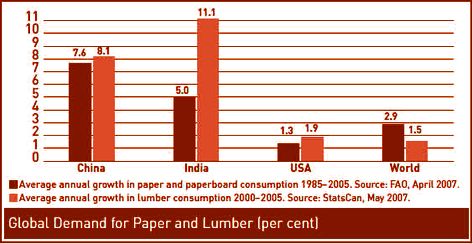 Although published in 2006 (new edition here) this PriceWaterhouseCoopers' publication remains topical and "summarises the thoughts of 17 CEOs in the forest, paper & packaging sectors around the global on key issues facing the industry. The thoughts of the CEOs, from North America, South America, Europe, Russia, China, India and South Africa, are drawn from face-to-face and telephone interviews by PricewaterhouseCoopers between February and May 2006. Interview topics included general economics, global competition, emerging markets, mergers and acquisitions, sustainability, strategy and supply chain."
2. "Pushing Paper Out the Door"
Many commentators seized on a short-term trend whereby paper use increased as people started printing gobs or articles and emails generated through Internet use.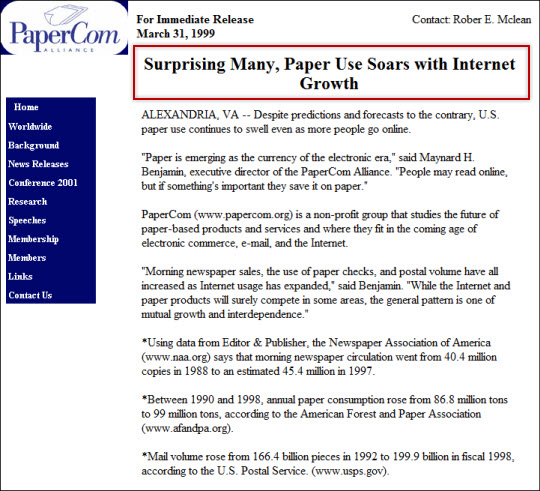 I've long argued that people will become decreasingly inclined to print to paper from their computers. There are two reasons for this. First is that today's large LCD displays are much easier to read from than the CRTs of old. Don't you find it less stressful on your eyes to spend 6 or 8 hours on the computer than you did a decade ago? And they keep getting better. Second is that the nature of the way we read is changing, and we now skim more articles than we read word-for-word. Sure there will still be some long PDF that you'd rather read while sitting in the La-Z-Boy, drink in hand, comfortably perusing the entire piece. But I would argue that it is becoming more the exception than the rule. This light New York Times article examines the Uhlik family, who "live a practically paper-free life."
3. "Today's Paper Outlook: How Will It Shape Your Usage and Buying Strategies?"
A good summary article (November 2007 in Book Business magazine) by Eugene Swartz on where the paper industry is headed, particularly as it applies to book publishers.
4. Xerox Paper Uses Less Trees While Saving Customers Money
The new Xerox High Yield Business Paper uses half as many trees, is manufactured with less water and chemicals, and is produced in a mill that uses hydroelectricity to cut greenhouse gas emissions by 75 percent. Plus, because it's lighter weight than paper made by the traditional chemical process, it costs less to ship and mail. It is the first and only paper of its kind that performs reliably in digital printers and copiers.