The Future of Advertising
Last updated: August 1, 2011
The Elevator Pitch for the Future of Advertising

Most forms of publishing rely upon advertising to survive. Advertising has long been the lifeblood of publishing, and remains so on the Web. The Web may be a revolutionary medium, but it for the most part relies on good old-fashioned advertising to pay the bills.
On the other hand, the Web has completely altered the business of advertising. Advertising from most other media is slowly being siphoned over to the Web. More significantly, Web media companies have rewritten the processes and procedures for how advertising is handled, and have cast all previous beliefs into question.
Among the changes is a radical power shift in the control of advertising, which is impacting all of the concerned players, not just publishers, but ad agencies and ad placement firms as well. Power is ever-increasingly in the hands of the advertisers, the one who pays the bills.
Still, as we've seen in the Web's all-too-brief history, today's absolute truth is tomorrow's "whatever made us believe that was true?" There are forces percolating around Web advertising that could still lead to a significant shift from what appears to be standard practice today. As just one example, Google is rapidly changing the Internet advertising landscape from an emphasis on display ads to search-based ads.
The current recession, the most serious in nearly 30 years, is having an enormous impact on advertising spending in all media, including the web. The advantage fall to the measurable web, perceived to offer the top advertising ROI.
My overall rating for the long-term future of the advertising has to be positive – there is so much money in play. On the other hand, this story has not reached its conclusion, and the landscape will be a very different one a decade from now than what we observe today.
Page Index
The History of Online Advertising
The Web has struggled with advertising since its earliest days. Keep in mind that the Internet was originally a U.S. government-financed network, intended for national defense. Nobody was thinking Yahoo! or Petfood.com when the Internet was created.
I'm not an historian of the Internet, but most of us recognize that commercial forces overtook the Internet in the 1990s largely because of the World Wide Web (DoubleClick dates the birth of Internet advertising to 1994). Since then it's been an advertising gold rush, without parallel. The future of the Internet now appears to be inextricably linked to which company figures out how to grab the most ad dollars.
A thorough report prepared by DoubleClick includes the following chart detailing online advertising's brief history:
We can easily find some publishing media that are not significantly dependent on ad revenue — for example books, most scholarly journals, music and computer games (although as you'll see in the References section, advertisers are starting to get their mitts on computer games also). But just about every other form of publishing lives and dies by its ad revenue.
Media thrives when it attracts the most ad dollars. And wouldn't it be easy for our calculations if we could just look at total revenue. But the picture is far more complex. First of all there is "cost per viewer": which medium offers the most viewers and the lowest cost per viewer? Even that is not enough: regardless of the cost of each pair of eyeballs, is the viewer motivated by the advertisement to make a purchase? Let's call this "revenue per viewer," be that a magazine reader, a Web surfer, or a TV viewer. Obviously the more revenue that eventually results from each ad viewer, the better.
There are two main reasons why certain readers/viewers can be motivated to purchase more stuff than another similar set of prospects. First is the quality of the creative itself: it's as true as ever that "creative" makes a difference: great advertising motivates more activity than mediocre advertising (although the definition of "great advertising" is itself controversial).
Next is the demographic of the viewer: matching the audience to the pitch. When selling fancy cars, advertisers want affluent readers and viewers. They'll pay extra for those. Used car shoppers have little or no value.
But this is just a small part of the Internet advertising story. Companies like Google and Yahoo! are rewriting how the business of advertising is conducted. They are as endlessly creative as they are endlessly greedy. There's nothing they won't try, and increasingly they're trying to horn in on traditional advertising revenues, and complementing those with their own unique reach. It's breathtaking!
Of course this is having a mostly negative impact on a lot of other media companies, which I'll cover further as we examine other industries in action.
The Broad Impact of the Internet on Advertising
Universal McCann senior vice president and director of forecasting, Robert J. Coen, is the man when it comes to advertising forecasts, and has been for as long as I can remember (which means he's held the top slot even longer). Although we've never met, and I've never heard him speak, the breadth and depth of his knowledge is always obvious in his writings. And his forecasts are treated by virtually all publications as equivalent to the word of God. Terms like "dean of media forecasters" or the "guru of online ad research" are the types of superlatives routinely associated with this veteran. (Although he is not without his detractors as this emphatic commentary from Jack Myers makes clear. More on Myers in the References section of this article.)
He rarely missed a target during the boom years. But he started missing them over the last couple of years as Web ad growth has taken all but the most optimistic by surprise. But he seems to be getting back on track.
Coen is generous with his insights and his June, 2007 "Insider's Report" is well worth reading.
The most starting sentence in the report is the following: "Online advertising and search marketing, which was virtually unthought of several years ago, have violently impacted (emphasis mine) many established media as the appeal grows for marketing tactics that are closely tied to an immediate consumer transaction."
Mr. Coen is not known for the use of terms like "violently impacted." We had best pay attention!
He admits in the report that as late as December 2006 he was predicting 5.2% growth in ad spending (for 2006) as it was also an election/Olympic Games year. His June 2007 report concedes that advertising gains were only 3.9% in 2006. At the same time he predicted 4.8% growth for 2007, but by June had lowered the forecast to 3.1%. As he writes: "The outlook for advertising this year is not very good."
The report is so well- and carefully-written that two or more readings might be required to extract all the nuggets. But there are some shockers. On page 6 he notes that "advertising's share of the U.S. economy has been slipping." On the same page he writes that "total National ad spending in 2007 is not expected to keep pace with this year's economic growth." (Keep in mind that U.S. economic growth has subsequently taken a hit because of the sub-prime mortgage "crisis," the full extent of which still remains uncertain.)
In the New York Times story on Mr. Coen's June presentation, he is quoted as saying "I can't deny it any more; things are pretty bad."
MediaLife Magazine describes Coen as "traditionally among the more optimistic" of forecasters. His June report can hardly be characterized as optimistic. An optimist might assume that the universe will soon be restored to its traditional orbit. As a realist, I think that Mr. Coen is quietly admitting that advertising will never be the same again.
The Big Players in Online Advertising
When considering which companies are the dominant forces in online advertising some lines must be drawn. On the one hand there are the high traffic web sites. For example, Alexa, an authoritative source, today (May 14, 2008) lists the top 10 global web sites by traffic as:
yahoo.com
youtube.com
live.com
msn.com
myspace.com
wikipedia.org
facebook.com
blogger.com
yahoo.co.jp
Presumably these sites are earning more advertising revenue than their competitors down the list.
But the larger battle is over the new breed of "agencies" that in many cases control the advertising that appears on these sites, taking a healthy cut of the action along the way. For example, the ads which appear on Alexa itself are placed there by AdBrite, "the Internet's ad marketplace," which offers "a high level of service, science, value, targeting and transparency to help each of our advertisers become successful."
DoubleClick was the highest-profile agency until its purchase last March (2008) by Google for $3.1 billion.
Another large player was TACODA, "a wholly owned division of AOL and a Platform-A company, (which) runs one of the world's largest and most advanced behavioral targeting advertising networks. Since 2001, TACODA has provided a comprehensive range of behavioral targeting solutions to thousands of web publishers and brand marketers. Its patent pending technologies enable brand advertisers to target relevant messages to specific audience segments….TACODA has more than 4,000 sites reaching over 140 million monthly unique users. Major US media partners include Dow Jones, The New York Times Company, NBC Universal, Fox, AOL, Comcast, HGTV.com, FoodNetwork.com, Kelley Blue Book, and USAToday.com."
Many Web sites contract with multiple agencies for different types of ads, for use with different types of content.
Where the well-publicized advertizing battles are being fought is between sites like Google and MSN, that want to be able to control both the advertising placement and the advertising display, effectively cutting out the middleman.
An admittedly dated (2006) listing by Charles Iliya Krempeaux gives you a sense of the extent of the (ever-consolidating) range of "online advertising networks." But, as Mr. Krempeaux points out, "contrary to popular belief, there is more to online advertising than just Google."
Top Ten Online Advertisers
Nielsen//Netratings, which bills itself, in a somewhat understated phrase, as "a global leader in Internet marketing and research," provides a plethora of free (and, of course, paid) data illustrating what's happening on the Internet (Nielsen//Netratings is a subsidiary of The Nielson Company, forever in our minds for its longstanding control of television ratings data).
The chart below details which firms spend the most cash advertising on the Web in February, 2008 (the latest data available). The top spenders may well surprise you, although, admittedly, just listing the top ten reveals only an aspect of the Web advertising tale.
I'm guessing here, but I think most readers would not even have heard of one or two of the names on this list.
Experian is the huge credit-rating agency, which loves selling you your credit report, although you are entitled to receive it free once a year. NexTag bills itself as a "comparison shopping" site, although its featured product is mortgages. InterActiveCorp is Barry Diller's holding company for "more than 60 specialized and global brands," including a few real estate services, plus Evite, Ask.com, Match.com, Ticketmaster and Citysearch. Apollo Group is the holding company for four higher-learning institutions, including the enormously successful University of Phoenix.
I think you've heard of AT&T, Vonage and Verizon (both telephone companies, to use a dated term) and Netflix. General Motors needs no explanation; Scottrade is a discount online broker "with America's largest branch network."
Just for comparison, here's the October, 2007 report:
The big spenders are many of the same firms featured in the more recent report, with the major exception of Low Rate Source and Countrywide Financial Corporation which had been in the business of selling mortgages online, and became so enmeshed in the sub-prime mortgage debacle that they are no longer active.
It does paint an interesting picture of advertising on the Web. If the Web is such a great advertising medium, why aren't its top advertisers from a slightly different class of corporation? Kind of makes one ponder.
The best data for comparison is perhaps Advertising Age's annual listing of 100 Leading National Advertisers, which shows ad spend by all media. Only two firms appear in both of these listings: AT&T and General Motors.
Online Publishers Change their Tune
The New York Times announced recently that it would shift away from its subscriber-based model to an ad-based model. Here is one of the most valuable media properties in publishing changing its tune, and perhaps signaling a new tune for us all.
This announcement appeared while Rupert Murdoch was in the midst of negotiations to acquire Dow Jones, including the Wall Street Journal, since successfully concluded. There were immediate rumors in the press that while the Wall Street Journal remains a model for the successful integration of print and online revenue models, Murdoch would consider opening up the site to more free viewing.
Then on November 13th, although Murdoch had yet to take formal ownership of Dow Jones, he told reporters "We are studying it and we expect to make that free, and instead of having one million, having at least 10 million-15 million in every corner of the earth." The New York Times reported that "The Web site, one of the few news sites globally to successfully introduce a subscription model, currently has around one million subscribers, which generates about $50 million in user fees." (Apparently an understated number, as the minimum price for an online-only subscription is $79/year, with renewals at $99/year.)
An October 1, 2007 article in the Information World Review revealed that the Financial Times (of London), "has stopped short of full free access to its content (but) FT.com is to introduce a new 30 free views a month system to increase access to the site."
One category of periodical that is paying particular attention to the Web is fitness and health. According to a September 17, 2007 article in the New York Times, "Publishing companies are also following the movement of health ad dollars to the Web. Web display advertising for prescription drugs has increased nearly fivefold in the last four years, to $163 million last year, according to TNS Media Intelligence. That is still only 6 percent of drug ad spending on television and less than 10 percent of spending on magazines, but it has passed drug advertising in newspapers."
Another category is business-to-business (B-to-B) periodicals. As you'll read in the section on Magazines, CMP now sees non-print revenue exceeding print. This is but one example of the advertising shift in a portion of publishing industry.
The Reality of Integrated Media
Most current studies reflect my belief that the Web is not an either-or proposition. What I'm finding in numerous reports is that the average consumer is pleased to have a range of media at his or her disposal, and most are not planning to abandon their magazines (despite more-rapid circulation attrition in newspapers), or televisions or radios. Some have a decided preference for a specific medium for specific purposes, while other just bask in the cornucopia of choices.
In early 2007, Deloitte's Media & Entertainment practice released its State of the Media Democracy survey, based on March, 2007 data. Among its many findings:
Almost three-quarters (72%) of all consumers read magazines, even when the same content is available online.
76% of all consumers find Internet ads more intrusive than print ads, and 64% pay more attention to print ads than those online.
Conclusion: What is the Future of Advertising?
It's clear that there are numerous instances where the Web is starting to make significant inroads into advertising revenue from most publishing media, and not just print. It's equally clear that the percentages remain modest, as does the overall percentage shift.
Each publishing medium reflects distinct characteristics and advantages that sets it apart from other competing media. In some instances the Web can provide tangible advantages over certain aspects of certain media, but rarely can it outdo a specific well-established medium in all of its aspects.
Consumers tend to default towards choice. They want more, not less. As long as they can balance time and budgets against available choices, the multiplicity of media available today will continue to exist for the immediate future. The competition for ad dollars will, as it always has been, remain fierce. But there is still a lot of cash available to support a range of media, even while business models change and publishers are forced to make some difficult business choices.
The chart below well-illustrates the conundrum that traditional advertising faces as it confronts new media.
I recommend that you read my recent blog entry, The End of Advertising As We Know It (with its link to an exceptional study on the future of advertising). As I write there, "this is the first advertising report I've read that dares to ask the really tough questions about the future of advertising." Most provocatively it dares to pose the question, as important to the Web as any other medium, "Will consumers reject outright the concept of interruption marketing in the future?"
References
1. The Stats
(a) "The Decade in Online Advertising" (PDF file) mentioned above, published in 2005 by the no-longer-independent Internet ad firm DoubleClick, provides some perspective on the duality of Internet advertising. On the one hand the growth has been enormous; on the other hand, it still amounts to only a small fraction of U.S. ad expenditures.
To read the news these days you could easily get the idea that the Internet dominates all advertising. The reality is far different.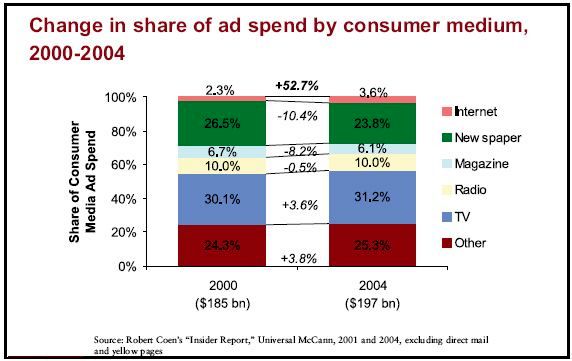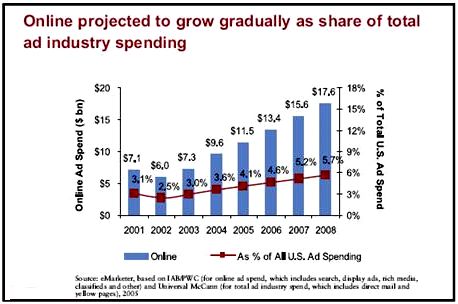 (b) The IAB Internet Advertising Revenue Report is an industry survey conducted by PricewaterhouseCoopers and sponsored by the Interactive Advertising Bureau (IAB). Published semi-annually, the latest version was published in May, 2011.
(c) A View to the Future
eMarketer.com is focused more-or-less exclusively on sales reports and sales projections, and so of course is willing to go out on a limb with its projections of Internet advertising spend.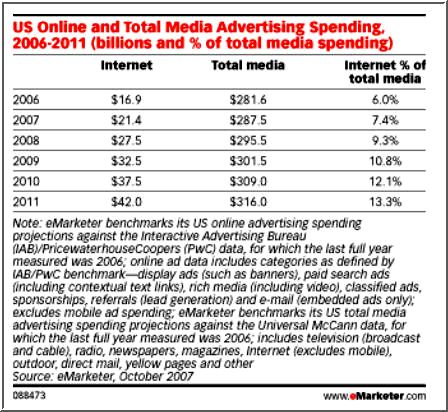 Things do clip along for the next few years, merely doubling by 2009. But unless all other forms of advertising remain static in volume during that period, Internet advertising will still only represent about 13% of all U.S. advertising expenditures by 2011.
I write this not to be negative. The numbers are remarkable. But we have to keep in mind that the Internet, while heavily influencing the show, is not yet running it.
2. We've Officially Acquired DoubleClick
Read Google CEO Eric Schmidt's 2008 blog entry the day Google announced that it had successfully completed the acquisition of DoubleClick (for a mere $3.1 billion). A limited amount of insight is offered beyond the theme that "ultimately, we believe that by combining our advertising network with DoubleClick's display ad serving products, and by investing resources in the display ad business, we will be able to help publishers and advertisers generate more revenue." Schmidt follows that statement with what I would label a questionable syllogism: "That in turn will fuel the creation of even more rich and diverse content for Internet users everywhere." Hmm…
3. DoubleClick Information Resources
As per the example above, DoubleClick does offer what strike me as relatively unbiased and in-depth research reports for free on its website. Also available are case studies and a very-poor and infrequently-updated blog.
4. How Auctions Set Ad Prices
They say that Google has no trouble attracting the best and the brightest, and I see they've hooked Hal Varian." Mr. Varian is a very well-respected professor in the School of Information, the Haas School of Business, and the Department of Economics at the University of California at Berkeley, who is "currently on leave from Berkeley and…serving as Chief Economist at Google." He is the author of numerous articles and scholarly papers and one of the key authors of the famous study, "How Much Information? (which I reference in my section on the Information Explosion).
This blog entry from Mr. Varian provides a straightforward explanation of the somewhat complex procedure of how advertising is priced at Google and several other search engines.
5. The Uncanny Valley of Internet Advertising
The very good tech journalist Farhad Manjoo reveals the problem with the emperor and his clothing. The subtitle of his article is "Targeted web ads are too dumb to be useful and just smart enough to make you queasy." I'd go one step further: "…and therefor are in most cases a waste of money, in some cases actually damaging to the advertiser, and effective only in a small minority of instances."