"Thad's years of experience in the field and forward thinking combined to make a presentation that will allow our member to stay relevant and acquire the skills they need."
— Stacy Masucci, Publishing Professionals Society of the Capital Region of New York, May, 2018
"Five of the publishing industry's best known technology consultants have formed a new firm, Publishing Technology Partners…"
— Jim Milliot, Publishers Weekly, April, 2018
"Thad McIlroy… is widely-respected as an analyst of the Internet's impact on the full spectrum of publishing sectors."
— Christopher Kenneally, Beyond the Book, Copyright Clearance Center, July, 2016
"…great publishing-futurist guru; lively, intelligent, and crazily informed: Thad McIlroy's very geeky (and therefor fascinating) The Future of Publishing."
— Rachel Abramson Dacus, Rocket Kid Writing, June, 2016
"Thanks Thad – and thanks for your leadership in all things metadata!"
— Anne Kubek, Digital Book World, March, 2016
"As metadata expert Thad McIlroy explains, 'You are doing your company, and more significantly, your authors, a disservice by refusing to move. Your books would gain more exposure and sales [with adoption of ONIX 3.0].'"
— Kathy Meis, Book Business Insights, March, 2016.
"We recommend the wise comments from Ben Thompson and Thad McIlroy (on the topic of ebook sales and ebook pricing)"
— Fabian Kern, Mobile Publishing: Update September 2015
"Thad McIlroy's collage of resources on www.futureofpublishing.com is worth reviewing for additional pointers to the evolution of publishing as we knew it."
— Ulla de Stricker, de Stricker Associates, December 13, 2009
"This month we had the opportunity to catch up to Thad McIlroy, editor and founder of 'The Future of Publishing,' a highly-regarded website that monitors news on the digital publishing front and where digital publishing is heading."
— Nettie Hartsock, Planet PDF Contributing Editor, November 19, 2009
"Thad McIlroy, ein bekannter Experte in der Publishing Branche in den USA…"
— Jennifer Neumann, PUBLISHING REPORT ONLINE, December 2008
"Through his involvement with Seybold and the books he has published Thad has distinguished himself as an expert on a technology field in constant flux."
— Andreas Pfeiffer, The Pfeiffer Report on Emerging Trends and Technologies
"Thad McIlroy…is one of the leading researchers and lecturers on graphic arts technologies, and is a prolific contributor to graphic arts publications and forums worldwide."
— Brian P. Lawler, Graphic Arts Consultant
"Thad McIlroy has been one of North America's strongest independent voices analyzing the intersection of technology and publishing…He has pushed his way through the rhetoric of trade associations and stood with printing companies by giving them frank warning of the challenges they would face from the Internet and a changing economy…More recently he has focused on workflow automation, through JDF, and automated page composition, arguing that print productivity has to be significantly improved if print is to remain competitive in a digitally wired world. His recent analysis in The Gilbane Report…reveals the shape of things to come in page layout and typography."
— PrintAction magazine, July, 2004.
"…McIlroy is one of North America's strongest independent voices analyzing the intersection of technology and publishing. While his message is not always warmly received, it is always taken as a working assessment of the marketplace's current and future state. McIlroy, who consults for multi-million dollar companies, regularly contributes thought-provoking articles for PrintAction."
— PrintAction promotional brochure, January, 2005
"Thad McIlroy, an industry consultant and authority on color…"
— Hadley Sharples, Associate Editor, Graphic Arts Monthly, 1996
"Fortunately, the keynote by Thad McIlroy was worth the wait."
— Robin Peek, Information Today, March 2000
"Products such as the Preflight and File Repair video series from Montage Productions, featuring prepress guru Thad McIlroy, are well-regarded as technical resources."
— Elias Crim, American Printer; July 1, 1997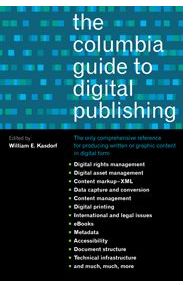 "Thad is a leading expert on publishing and printing technologies — and a fabulous communicator of that knowledge. I was thrilled that he did the Composition, Design, and Graphics chapter in The Columbia Guide to Digital Publishing, because he explains technical issues so clearly and accessibly. He's also a tremendously entertaining speaker and seminar leader."
— Bill Kasdorf, Editor, The Columbia Guide to Digital Publishing
"I was acclaimed (by Air Canada no less) with the title of Shipper Laureate for the legendary Canadian poetry/literature publisher and occult distributor Virgo Press/Beatty & Church, having grown up through the ranks from humble beginnings as a mere Poet Shipper. Other titles on my business card included "Chief Weapons Officer" — they don't make publishers like Thad McIlroy anymore."
— Gary Lawrence Murphy
"Thad McIlroy, President of Arcadia House and a long-time industry visionary, will share his thoughts about a new vision of workflow that extends beyond the individual interests of suppliers to the industry at large and examine steps required to reach this broadened workflow concept. Listen up, suppliers!"
— Cary Sherburne, IPA Technical Conference: Workflow RoundUP Picks Up Steam, OnDemandJournal.com
"Join technology guru Thad McIlroy as he explores both the dream and the reality, and paints a picture of what it takes to make media agility possible for publishers today…"
— Brochure for Digital Design World 2004
"Thad was like a publishing mentor to me early in my career at Thomson. I have yet to find another person in publishing with as much wide-spanning knowledge and insight as Thad. We've implemented many of Thad's strategies here at Thomson with great success."
— Asheesh Birla, Executive Director, Strategic Technology, Thomson Learning (div. of Thomson Corporation)
"Thad McIlroy is well known in many sectors of the printing and publishing communities. As president of Arcadia House, based in Toronto and San Francisco, Thad has consulted to scores of printing and publishing companies, spoken at or organized more conferences than he cares to count, and written some of the most important books and articles for this industry over the past two decades."
— ThePrintPub.com, September 5, 2006
"It was a great experience working with Thad. He's very professional at what he does and has incredible amount of knowledge in his field. He is a wonderful, highly intelligent person and work with him is a real pleasure."
— Elia Rossul, Rossul Design, October 5, 2006