About Thad
Professional Background
Writing and publishing are in my blood.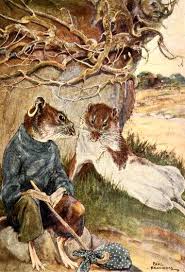 My father, Kimball McIlroy, was an author, playwright and broadcaster. My great-uncle, Gordon Hill Grahame, was a novelist and memoirist (his first novel, The Bond Triumphant, won Hodder and Stoughton's Canadian Prize Novel Contest in 1922). Kenneth Grahame, author of the children's classic The Wind in the Willows (remember Toad of Toad Hall?), was my third cousin (several times removed).
As writing did not always pay the bills, my father spent a chunk of his career working for Encyclopedia Britannica. I remember clearly the day the truck pulled up to our house and two uniformed men unloaded our first set of the Encyclopedia, along with the 52-volume Great Books of the Western World.
I graduated from high school, but didn't feel like heading straight to college, so instead I began a career as a bookseller in Toronto. I worked both for two independent booksellers and also for two Canadian bookselling chains, Coles and Classics (now subsumed into Indigo). In 1977 I founded Virgo Press, a trade book publisher. In 1979 I co-founded Beatty & Church (with Steve Osborne of Vancouver's Pulp Press, now Arsenal Pulp Press), a book distribution company, serving small presses from Canada, the U.S., the U.K., and Australia.
This was followed by a brief career in journalism, working freelance for magazines (Quill & Quire, Canadian Business and The Financial Post), newspapers (The Kingston Whig-Standard), radio (CBC) and television (W5 on CTV).
In 1985 I edited and typeset what I still believe to be the first trade book created completely with desktop publishing technology. I composed it on a Macintosh (without a hard drive) using Microsoft Word (version 1.05!), and output to the first Apple LaserWriter (which then cost $6,995!).
The book, published by Doubleday, was called The Personal Letters of a Public Man: The Family Letters of John G. Diefenbaker (Diefenbaker was a popular Canadian politician and the country's Prime Minister from 1957-1963). I was the editor of the book as well.
I also set the type for a cookbook that I co-published called Buon Gusto: The Best Recipes from Five Top Italian Restaurants in Toronto. By that time I'd graduated to Ready,Set,Go! software, at the time a competitor to Aldus PageMaker.
This led unexpectedly to an invitation to join a large graphic arts distribution company, McCutcheon Graphics (now Fujifilm Canada) as its first "Desktop Publishing Product Manager." (I remember saying to John McCutcheon at my job interview, "But I really don't know a lot about desktop publishing." He quickly replied, "No one else does either, so you might as well take the job!")
After three years at McCutcheon I decided to strike out on my own as a publishing consultant, and shortly thereafter decided I'd have a better chance if I was based in Silicon Valley, rather than in Canada. I moved to San Francisco. As an electronic publishing analyst, consultant and author, I've spent my career exploring the technology and marketing issues surrounding electronic publishing, books, newspapers, and magazines, as well as metadata, ONIX, XML, PDF, EPUB, as well as publishing automation.
Along the way I've authored or edited a dozen books on these subjects, written some 250 articles and 450 blog posts, while delivering hundreds of seminars on a broad range of industry-related topics. I also enjoyed the marvelous opportunity of working for five years as Program Director for Seybold Seminars.
In 1990 I co-founded (with Miles Southworth) The Color Resource, a publishing and distribution company devoted to books and training materials on color design, imaging and prepress.
More recently I co-wrote (with Renée Register), The Metadata Handbook: A Book Publisher's Guide to Creating and Distributing Metadata for Print and Ebooks (2013). I wrote the Composition, Design, and Graphics chapter (with contributions from Frank Romano) for the Columbia Guide to Digital Publishing (Columbia University Press, January, 2003). You can find all of my books listed here.
I'm a contributing editor to Geist magazine, and a Senior Member of the Association for Computing Machinery. In 2019 I joined the board of People's Co-op Bookstore, Canada's oldest (75+ years old!).
Most (though not all) of my consulting work these days is with book publishing companies. I'm particularly interested in publishing startups and the innovation that they inspire. My publishing startups report appeared in Publishers Weekly in November of 2022, and the accompanying database is hosted by PW online. I've joined Publishers Weekly as a contributing editor focused on publishing innovation. I'm proud to be a part of PW: now celebrating its 150th anniversary, it's "the bible of the book business."
I've handled a wide range of technology challenges. A recent focus was metadata, particularly as it relates to ecommerce. I teach an online course on metadata at Pace University in New York City.
I also serve as an expert witness in publishing-related litigation, most recently in a case where a group of authors found reason to become upset with their publishing partner. In another case I'm more focused on a prepress and printing dispute.
In 2018 I joined three of the publishing industry's veteran consultants, Bill Kasdorf, Bill Rosenblatt and Bill Trippe, to form Publishing Technology Partners (Steve Sieck joined our team in 2020, and Ken Brooks rejoined). Each of us has well over 25 years consulting experience in the publishing industry. Our goal is to work as a team to offer a one-stop shop for publishers, addressing any and all publishing technology challenges at a strategic level, while implementing practical, cost-effective solutions tailored to fit individual needs.
That's more than enough about me. I just wanted people to know that I come to my practice with a publishing background. It was my first passion. Trying to understand where publishing is headed remains an ongoing passion. Let's continue the journey…
Thad McIlroy
thad@thefutureofpublishing.com
November 1, 2023
You'll find more information on my consulting services here.
LinkedIn Profile
Twitter: @ThadMcIlroy
ORCID iD: 0000000162677090
Google Scholar: GM3IwU0AAAAJ
OCLC WorldCat Identity: lccn-n84012610