About Thad
Writing and publishing are in my blood.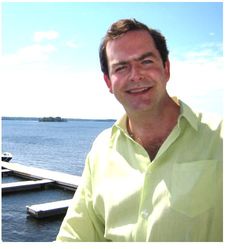 My father, Kim McIlroy, was an author, playwright and broadcaster. My great-uncle, Gordon Hill Grahame, was a novelist (his first novel, The Bond Triumphant, won Hodder and Stoughton's Canadian Prize Novel Contest in 1922). My great-great-great (etc.) uncle was Kenneth Grahame, author of the children's classic The Wind in the Willows (remember Toad of Toad Hall?). As writing did not always pay the bills, my father spent a chunk of his career working for Encyclopedia Britannica. I remember clearly the day the truck pulled up to our house and two uniformed men unloaded our first set of the Encyclopedia, along with the 52-volume Great Books of the Western World.
I graduated from high school, but didn't feel like heading straight to college, so instead I undertook a career as a bookseller. In 1977, part-time, I founded Virgo Press, a Toronto-based trade book publisher. In 1979 I co-founded Beatty & Church (with Steve Osborne of Vancouver's Pulp Press [now Arsenal Pulp Press]), a book distribution company, serving small presses in Canada, the U.S. and the U.K.
All of this was followed by a brief career in journalism, working for magazines, newspapers, radio and television.
In 1985 I edited and typeset what I still believe to be the first trade book published totally with desktop publishing technology, composed on a Macintosh (without a hard drive) with Microsoft Word (version 1.05!), and output to the first Apple LaserWriter (then costing nearly $10,000).
The book was called The Personal Letters of a Public Man: The Family Letters of John G. Diefenbaker (a popular Canadian politician and the Prime Minister from 1957-1963).
This led unexpectedly to an invitation to join a large graphic arts distribution company, McCutcheon Graphics (now Fujifilm Canada) as its first Desktop Publishing Product Manager. (I remember saying to John McCutcheon at my job interview, "But I really don't know anything about desktop publishing". He quickly replied, "No one else does either, so you might as well take the job!")
After three years at McCutcheon Graphics I decided to strike out on my own as a consultant, and decided shortly after that I'd have a better chance of success if I was based in Silicon Valley, rather than in Canada. I moved to San Francisco. As an electronic publishing analyst, consultant and author, I've spent my entire career exploring the technology and marketing issues surrounding electronic publishing, e-books and digital magazines, metadata, XML, PDF, and publishing automation.
Along the way I've authored or edited a dozen books on these subjects, written some 250 articles, while delivering hundreds of seminars on a broad range of industry-related topics. I also enjoyed the marvelous opportunity of working for five years as Program Director for Seybold Seminars.
My conference mentor Craig Cline moderates a Seybold keynote, San Francisco, 2001
In 1990 I co-founded (with Miles Southworth) The Color Resource, a publishing and distribution company devoted to books and training materials on color design, imaging and prepress.
More recently I wrote the Composition, Design, and Graphics chapter (with contributions from Frank Romano) for the Columbia Guide to Digital Publishing (Columbia University Press, January, 2003). I'm on the editorial board of Learned Publishing and Geist magazine, and I'm a member of the Association for Computing Machinery and the Society for Scholarly Publishing. For three consecutive years I was named one of Canada's 50 most influential people in graphic communications.
Well, that's more than enough about me. I just wanted people to know that I've got a publishing background. It was my first passion. Trying to understand where publishing is headed is my ongoing passion. Let's continue the journey…
Thad McIlroy
January 2012