December 13th, 2012
I'm participating in a live chat on The Guardian tomorrow, Universities in 2012. As The Guardian phrases it, the past 12 months have indeed been heady. For me it's the most important year in higher education since I began following the "industry" two decades ago. I think the developments we've followed this year — MOOCs, enhanced digital textbooks, mobile devices in the classroom, and much more — are truly taking root and will continue their explosive growth next year. I expect that 2012 will come to be designated as the year that education "tipped". Not only higher education — because of the deserved popularity of tablets as teaching tools, K-12 as well.
Here's a selection of the most significant online articles from the past year. Read these and you'll be able to see the pattern of a year just passing, and a foundation for the year to come.
January: Apple Enters The Textbook, Self-Publishing Market
"Apple's event was first rumored to be a self-publishing venture then called an "education" venture. It turned out to be both."
February: Economics of e-textbooks
Matt MacInnis envisions a day when university and grade school classrooms are completely free of paper textbooks. His Silicon Valley-based company, Inkling, is working to bring that vision to fruition.
April: Tablet ownership among college students triples as digital revolution continues to work its way into education
According to a Pearson Foundation Survey, tablets are more than just a trend, particularly among younger generations. The survey notes that tablet ownership among college students and college-bound high school seniors has more than tripled since a year ago, with even more students saying they plan to purchase one within the next six months.

June: Secretary of Education Duncan Declares August "Connected Educator" Month
The Obama administration made it very clear this year that it supports the increasing digitization of education. "Every educator needs to be connected with the best digital content, tools, and resources in order to enliven the learning environment for students, and to fully connect with peers and experts," said Secretary of Education Arne Duncan in announcing that August 2012 would be "Connected Educator Month."
June: Reworking a Course Into an Online Format: 'Sort of Like Moving'
The Chronicle of Higher Education asked four professors teaching free online courses to describe their experiences.
June: The inevitability of open access
"There seems to be a consensus that open access is an inevitability. We're hearing this not only from the usual suspects in academia but from publishers, policy-makers, and other interested parties."
September: Open source textbook bill passes [California] state Legislature
"A set of bills that would create an online library of free electronic textbooks was passed by the state Legislature last week…"
September: Education Site Expands Slate of Universities and Courses
"Coursera, a start-up online education company that has enrolled 1.35 million students in its free online courses since it began just five months ago, is now more than doubling, to 33, its partners, universities that will offer classes on its platform."
September: Apple's iPad now definitively replacing PC sales in education
"PC education shipments fell by 13.9 percent from the June quarter a year ago. Apple, meanwhile, sold nearly a million iPads in the K-12 market in June, which [Charlie Wolf of Needham & Company] said is 'definitive evidence' that the iPad has been 'cannibalizing' PC sales in the U.S. education market."
October: University of Phoenix to Shutter 115 Locations
For-profit education had a rough year, for good reason. For the University of Phoenix the result was shuttering 115 locations and laying off 800 employees out of a staff of 17,000.
October: Evaluating Student Outcomes at For-Profit Colleges
"Students starting certificate programs at for-profit institutions have significantly worse outcomes than students starting in not-for-profit/public institutions."
October: Regardless of the Cost, College Still Matters
The Hamilton Project confirms its previous findings that the returns to college attendance are much higher than other investments, such as stocks, bonds, and real estate.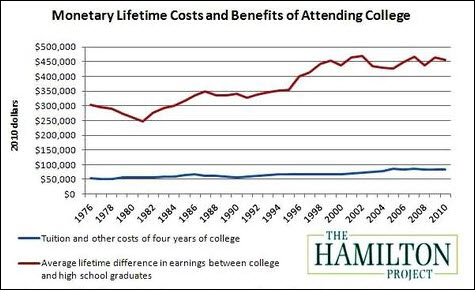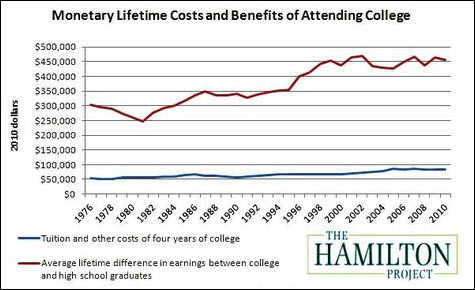 November: Napster, Udacity, and the Academy
Clay Shirky demolishes the doubters: "We have several advantages over the recording industry, of course. We are decentralized and mostly non-profit. We employ lots of smart people. We have previous examples to learn from, and our core competence is learning from the past. And armed with these advantages, we're probably going to screw this up as badly as the music people did."
November: The Most Important Education Technology in 200 Years
The MIT Technology Review declares the move to online is of major significance: "It's rare to see major technological advances in how people learn."
November: One Man, One Computer, 10 Million Students: How Khan Academy Is Reinventing Education
"It is heady, dreamy stuff and about as likely to happen as, well, a single teacher inspiring millions of students around the world using nothing more than crudely drawn YouTube videos."
November: Online Courses Put Pressure on Universities in Poorer Nations
The move to online is a major shift in First World nations. For poorer nations it's a radical game changer, disrupting entrenched interest and opening up education to millions of students who could never have afforded it before.
November: Fleeing From 'Free'
Flat World Knowledge announces plans to eliminate the free versions of its textbooks as of January 1, 2013.
November: McGraw-Hill Sold for a Fraction of Cengage Learning
What a difference 5 years makes. McGraw-Hill Education, with similar sales and profits, commanded just under 30% of what Thomson Learning sold for 5 years ago.
December: Online learning site Udemy nabs $12M to expand to new platforms, targeted content
Venture money increases its flow into online education: "The San Francisco startup competes with plenty of other online learning sites," but "Udemy is unique in that it lets anyone become an instructor by creating and offering free and paid video-based classes on a range of subjects its site."