April 5th, 2012
It's been a big day for ebook news.


The authoritative Pew Research Center reported that 1 in 5 Americans are reading ebooks. That's huge. Previous surveys focused on device ownership rather than readers so there are no comparables. But check this Pew stat: e-reader ownership more than tripled in the 14 months from November 2010 (6%) to January 2012 (19%).


Meanwhile Amazon dropped its data bomb: 16 of the top 100 best-selling paid Kindle books in March are exclusive to the Kindle Store.
How are we supposed to read that headline? Try this:
Amazon's ebooks marketshare is estimated between 55%-70%, at least double its closest rival, Barnes & Noble (I believe it's closer to triple). So the 100 best-selling paid Kindle books are a fair representation of the 100 most popular books in America. Compare Amazon's list to the list on USA Today. Very similar.
Bestselling books on Amazon's Kindle sell a lot of copies: there are now 11 authors in the Kindle Million club. There is no Barnes & Noble million club. No Apple club. No Google club.
Amazon's message with its 16 exclusives is: Hey, look at us. We've got books that no one else has. In fact nearly 1 in 6 of the most popular bestselling books is available only from Amazon.
As far as its retail competition goes, I say 'Good for Amazon.' The company has worked very hard to be #1 and is now reaping the rewards from its aggressive and steadfast efforts.
Authors are winning too. Big time. And Amazon sure wants authors to know it. The press release rubs it in. "In March, each time Kindle owners borrowed a KDP Select book from the lending library, the author received $2.18, leading to significant increases in income for independently-published authors."
After enrolling the book in the Kindle Owners' Lending Library in February, Martin Crosby earned over $45,000 in one month from paid sales and loans combined – a huge increase from the $100 he earned the prior two months when his book was not enrolled in the program. "Contemporary romance writer" Kathy Dunnehoff earned nearly $9,000 from the KDP Select fund in February; T.R. Ragan earned over $11,000.
Got that you loser authors who are not part of a program with "100,000 books now available"?
Nope, I'm not worried so much about the commercial competition. I'm worried about the competition that doesn't know how to fight back against the Amazon juggernaut, the competition that cares a lot more about readers than Amazon ever will. I'm worried about public libraries.
I thought I'd take a look at how Amazon's triumph plays out for the non-paying public. Amazon doesn't tell us the names of all 16 books, but reveals 10 books by 8 authors, and highlights an additional 5 'Select' scribes. I call them "The Amazon 13." (Three volumes of Michael Wallace's Righteous series were included on Amazon's 16, but I counted him once.)
I couldn't survey every public library, so I choose a representative library system from middle America – the Kansas City Public Library. I logged into the main catalog in Kansas City and checked each title, first for print holdings, then for ebook holdings (via the OverDrive portal).
Only 2 of the titles from The Amazon 13 can be borrowed from the Kansas Public Library in any form: Easily Amused by Karen McQuestion (in paperback) and of course Stephen Covey's The 7 Habits of Highly Effective People (in paperback, hardcover or audiobook). A total of 8 of the 13 titles are available for purchase in print, but not available in the public library system (3 of the titles are the shorter Kindle Singles).
What about the ebooks, I sense you wondering. Amazon makes its Kindle ebooks available to 11,000 public libraries (including Kansas) via OverDrive. Nope, not The Amazon 13. Not a single title was listed.  Not even the mega-bestselling Stephen Covey book.  The only member of The Amazon 13 with any titles on OverDrive is the late Kurt Vonnegut, and then only three of his books, The Sirens of Titan, Cat's Cradle and Slaughter-House Five. Surely they offer Player Piano, God Bless You, Mr. Rosewater or Breakfast of Champions? Nope. (NOTE: Some commenters assume this is because the respective publishers aren't making the books available for library lending, but only one title, the Covey book, falls into that category.)
I've been critical of Amazon's deal with OverDrive for precisely this reason: OverDrive, no matter how well-intentioned, is failing to make ebooks accessible via the public library system. Period.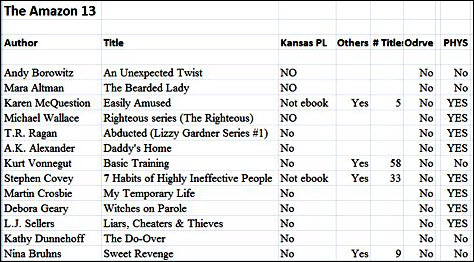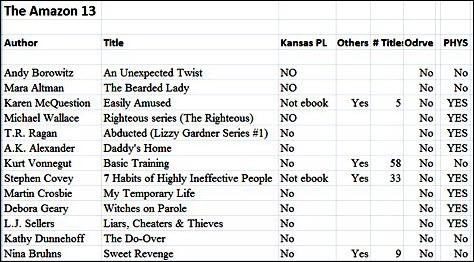 And what does Amazon have to say to public libraries and their patrons? I asked Amazon. The ever-loquacious Amazon PR folks had no comment. I think we already know what Amazon is telling us: Buy a Kindle. That costs $99 (with no sales tax in 45 states). Buy Amazon Prime: $79/year. The books are then free to borrow; cheap to buy (and probably even cheaper once the Department of Justice metes out justice).
As Amazon 13 author T.R. Ragan says in the press release: "I can't wait to see what Amazon will think of next!"
Librarians: My new ebook, Stripping Covers off The Hunger Games is available to you DRM-free, free of charge, as many copies as you want in whatever format(s) you would like. Leave a comment below with your contact info or email me at thad@thefutureofpublishing.com and they'll be on the way to you pronto. I don't care if every copy loaned leads to 100 stolen copies. I just want my book to be available in every public library and I'll be dead before OverDrive gets around to listing it.