September 24th, 2023
I just checked my calendar: it was Friday, April 28 when Peter Brantley and I met for lunch at the quirky Café Macaroni in San Francisco's North Beach neighborhood.
I had only met Peter face-to-face for the first time at last fall's PageBreak conference. I was struck then by just how damn smart he is, and how eloquent he invariably is in public presentations.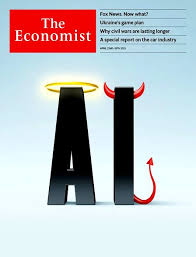 I had a copy of that week's Economist with me, with its AI cover story. By that point AI was everywhere, and of course it was a main topic of conversation at lunch. There had been very little written on AI's potential impact on book publishing. On the spur of the moment I said, "why don't we launch an AI conference for publishers?"
That conference, Artificial Intelligence: Revolution and Opportunity in Trade Publishing, will be taking place this Wednesday, starting at 1 pm Eastern.
I think it's going to be a fine event. We've got 19 speakers in 8 sessions in the four-and-a-half-hour program, including opening remarks from ex-PRH CEO Markus Dohle and a keynote from the remarkable Ethan Mollick, who has emerged as AI's most compelling educator.
We've tried to build it like a publishing workflow, first with an overview, followed by sessions on AI and authoring, AI and editorial, AI and production and then AI and book marketing. And of course we'll examine "The Legal Landscape for AI, Authoring and Publishing."
Publishers Weekly has been an invaluable partner throughout (specific kudos below*). It would not have been possible without them. I worked successfully with PW last fall on my book publishing startups report, and it only made sense to approach them to produce the conference.
Working with Peter Brantley has been inspiring.
I'm told that we've got over a thousand registrants as of Friday.* Look forward to seeing you there.
* Everyone at PW, from senior editor Jim Milliot, CEO & publisher Cevin Bryerman, the amazing marketing director Krista Rafanello, and marketing manager Stacey Gill. Rachel Deahl provided key assistance with the program and speakers. The program producer, Rob Simon of Burst Marketing, is a magician with logistic, keeping us on course.
* If, for any reason, you can't afford the $49 registration fee, email me at thad@thefutureofpublishing.com and I'll arrange a discount or a comp pass.
Also: If you can't attend this week, the recordings will be available to registrants for 30 days after the event.