August 11th, 2012
That's the full title. It's not just "21 Bacon Dessert Recipes." It's "21 Bacon Dessert Recipes That You'll Wish You Would Have Tried Sooner (Diane's Desserts Series)." I'm not sure if you would have wished you tried them sooner if you had discovered the recipes in this book, but now you may wish you'd tried them sooner as Amazon has removed Diane Dixon's book from sale.
I can only hazard a guess as to why Amazon removed it from sale. If the star insignia on the cover is to be believed, the book was a bestseller. And all 17 of the reviews of the book rated it five stars.
On January 30, 2012, in a review headlined "Pleasantly Surprised" Emerson noted that "I am a great lover of both bacon and chocolate but was a bit unsure about some of the combinations in the book until I tried some. My kids often have maple syrup with bacon and it must be the combination of sweetness and the smoky flavour of the bacon that gives some of these recipes a wonderful and addictive taste."
Four days before, Ryan, who had his "first experience with bacon and chocolate was when I was young" headlined his review "Bacon + Chocolate = Delicious!" Lisa Purdy noted that she had "picked this book up out of curiosity, but I'll be cooking out of it for a long time to come."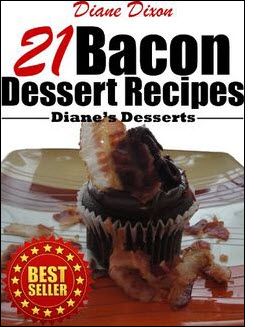 Dee-Ann from Australia gave it 5 stars on Goodreads. No slouch in the literature department, she is currently reading James Joyce's Ulysses. Karen Rae Fraser has the cover of an earlier edition pinned to her Pinterest page.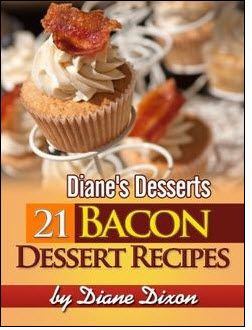 Diane Dixon's author page is still in place on Amazon, although none of the titles in her "bestselling" dessert series is available. We don't learn too much about Diane on her author page, mainly that, surprise, she loves making desserts. Of course she loves "making meals too" but desserts are really where her passion lies. Diane's Desserts are all about "thinking outside the box…Throw some bacon in there and surprise them."
There's a nice photo of Diane on her author page. She looks very cheerful.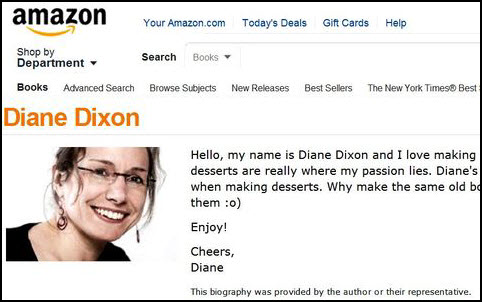 I did a reverse search on the image using TinEye and sure enough Diane is a cheerful woman. She is the "Portrait of a cheerful woman" on iStockphoto. For under $10 the image is available for use to pretend that she's an author of dessert cookbooks. It appears that Amazon figured out that Diane is a fake and pulled her from sale. But Diane has a great many friends publishing their cookbooks and household tips books and health books on Amazon. Which will be the subject of a subsequent blog entry.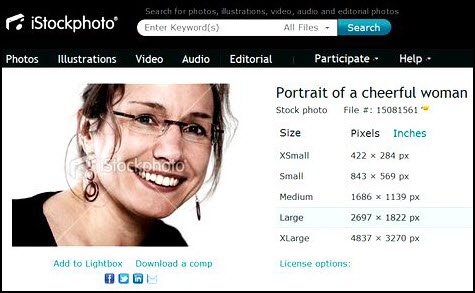 November 13, 2012, from The Oatmeal: