March 25th, 2012
Destroying paperbacks instead of recirculating them is a curious and wasteful vestige of the days when most pocket books were sold on newsstands alongside magazines. Magazines are topical – they have little resale value. Books do. But freight and logistics costs mean that pulping paperbacks is not necessarily as wasteful as it first appears.
Still it was certainly bad judgment of a Barnes & Noble store manager to tear the covers off 100 copies of The Hunger Games last month. It must be particularly cringe-making to read in Variety today of "'Hunger Games' whammo worldwide with $214 mil." The three Hunger Games books take the top three spots on USA Today's best seller list this week (although tossed unceremoniously into the category 'Children's – Series' to hit #1 on the New York Times). The top comment (out of 1302) on USA Today gushes "I've said to a few people that if I wasn't married, I'd have to marry this book."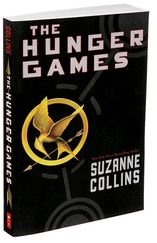 I wasn't thinking about The Hunger Games while writing my new book "Stripping Covers off The Hunger Games: How 7 Billionaires are Deciding the Future of Book Publishing in America." I was thinking about the 35,000 people who work at Barnes & Noble, and the 19,000 people who worked at Borders before its death march began.
When I started researching the series of articles on Barnes & Noble that launched in Digital Book World in January I was planning just a brief "what's been going on at Barnes & Noble" update. Amazon, as usual, had been grabbing the headlines, and DBW editor Jeremy Greenfield and I thought this would be moderately interesting. With the research already under way last fall the Nook tablet launched and the company reported some miserable financials so I had more to talk about than expected. By early January a Forbes headline read "Barnes & Noble Talks Nook Spinoff, Warns Of More Red Ink" while the New York Times described "The Bookstore's Last Stand."
Of course this year's victim is last year's varmint — the Economic Times reprint of the New York Times weepy is titled "Barnes & Noble: The giant that put many booksellers out of business."
Len Riggio was Publisher's Weekly's 2010 Person of the Year, baffling Carolyn Kellogg at the Los Angeles Times, while Peter Osnos noted that "it wasn't just that they thought he was a swell fellow."
Bookselling has been very, very kind to Len Riggio and his family. Publishers Lunch thinks he's a billionaire. I think maybe less that $1 b. But he's certainly made hundreds of millions of dollars along the way, from Barnes & Noble shares, from Barnes & Noble College, from GameStop, from MBS Textbook Exchange, from Digital On-Demand, from Alliance Entertainment and from Source Interlink. So much money that he could easily afford to donate over $30 million to an art gallery that bears his name.
It's certainly true that Len Riggio has worked hard for this money and that other entrepreneurs have made even more in similar industries. None of this is new.
But somewhere along the line it became so familiar that it lost its value to shock, perhaps even to surprise. That's what struck me as I research my book. Len Riggio is plotting the future of Barnes & Noble with John Malone, the 69th richest man in America (and our largest land owner). He's being opposed by Ron Burkle, the 107th richest man in America. Ron Burkle competes with Jim Pattison, #248 on Forbes' world billionaires list, and a beneficiary of the demise of Source Interlink, a company than Len Riggio was invested in. Riggio got his big break in part with the help of Michael Milken's junk bonds. Milken remains the 200th richest in America. There were plans afoot to merge Borders with Barnes & Noble but Borders failed after two other near-billionaires, Bill Ackman and Bennett LeBow took the reins.
Is something wrong with this picture? You decide.
See also my blog entries on Barnes & Noble:
• Book Prices and the Minimum Wage
• Barnes & Noble Throws Self-Publishers a Bone
• Barnes & Noble's Len Riggio Announces His Retirement
• Barnes & Noble's Declining Book Sales
• Barnes & Noble's College Humor
• Barnes & Noble Divides $300 Million in Half
• Microsoft Won't Save Barnes & Noble
• Barnes & Noble's First UK Partner Also Sells Kindle & Kobo
• Amazon Strikes Again at Barnes & Noble
• Barnes & Noble Marries Microsoft
• Barnes & Noble: The Analysts Speak, Part 1
• Running the Numbers on Barnes & Noble
• How Would You Save Barnes & Noble?
• Is Barnes & Noble the Best Buy of Bookselling?