March 25th, 2012
I assume that on October 2, 2005 Anthony Federico really did die "peacefully at home" of a heart attack before the Securities and Exchange Commission (SEC) could lay charges against him. He was only 46 years old.
Several people must have been startled by the news. Among them were his former employer, Robert Ingle, founder and CEO of Ingles Markets; billionaire Jim Pattison, a supplier to Ingles and Canada's fifth most wealthy man; and the five attorneys at the Securities and Exchange Commission who were pursuing him for misstating Ingles' recent earnings.
Bob Ingle opened the first Ingles supermarket in Asheville, North Carolina in 1963. As a member of a third-generation grocery family, Ingle had worked in a grocery store started by his grandfather. Ingles' company headquarters is located on the same spot.
Ingles Markets had annual sales of about $1.9 billion when Anthony Federico began to fiddle with the financials. He had joined the company in 1991 and in 1992 joined the board of directors of the public company.
The SEC concluded (PDF) that in 2002-2003 Federico had essentially shaken down four of Ingles' big suppliers ("negotiated refundable, upfront payments"), including Frito-Lay, in order to smooth out Ingles' earnings reports. The amounts were $2 million, twice, and $700,000, twice.
It wasn't that big a deal. The money was a prepayment, not a bribe. And all of the money would be earned out within at most a couple of years. Ingles' shareholders were the only beneficiary of Federico's actions, as far as the SEC report details. Their benefit would have been slight: Ingles' stock traded in a narrow range in 2002, mostly between $11.50 and $12.50. In early 2003 it dropped slowly towards $10/share and remained near that price for the balance of the year.
One of the companies involved was "Ingles' book and magazine supplier, the News Group."
According to the SEC on April 9, 2002 The News Group "offered to prepay $700,000 worth of rebates that Ingles would receive on future purchases in return for a contract extension." Federico made an entry on Ingles' financial records that the payment was for "Slotting For 32 Magazines For the Next 12 Months." Federico then backdated the invoice to March 18, 2002 and "either signed the News Group representative's name or had someone else sign it."
The SEC report goes on to describe a "side letter" that Federico signed a year later with The News Group, on June 24, 2003, for "rebates on past and future purchases." The report indicates that this was a more accurate description of the agreement signed in March 2002.
The News Group is part of the Jim Pattison Group, a $7 billion/year operation that is the third-largest privately-owned company in Canada. Jim Pattison made over 400 acquisitions to build his $4.3 billion fortune. Among them is both a chain of Canadian supermarkets, Ripley's Believe it or Not, The Guinness Book of World Records and Jim Pattison Cars Unlimited, a user car dealer in North Vancouver.
The News Group is "North America's largest magazine and book wholesaler." Pattison created the company in 1996 as a blend of earlier acquisitions. When you pick up this week's People magazine at the checkout line, remember it was placed there either by The News Group or one of its few remaining competitors.
Given the dealings between Anthony Federico at Ingles and Jim Pattison's News Group you wouldn't expect the two men to band together to invest millions of dollars into another supermarket chain, Pathmark stores, headquartered in New Jersey. Jim Pattison is said to embrace this tenet: "no partner, no shareholders, no relatives." Why would he partner with the son-in-law of the CEO of a supermarket chain half his company's size?
On March 3, 2003 Jim Pattison made a joint SEC filing with Anthony Federico recording their 6.6% ownership position in Pathmark supermarkets. The filing refers to Anthony S. Federico as "an individual" whose "principal occupation is serving as director and Vice President-Non-Foods of Ingles Markets, Incorporated a supermarket chain with stores in the southeastern United States."
The modest news coverage that followed focused on the already well-known Pattison, largely ignoring Federico. Speculation about a possible takeover caused Pathmark's share price to rocket by 44% over the next two months.
—————
That's an excerpt from the first chapter of my new book:  Stripping Covers off The Hunger Games: How 7 Billionaires are Deciding the Future of Book Publishing in America. The book brings together seven men, all billionaires, and reveals how each has a role in the future of book publishing in America. Jim Pattison appears in the story several times, usually through The News Group. The News Group connects to Source Interlink, another periodical wholesaler. It used to be owned in part by Len Riggio, CEO of Barnes & Noble. The top investor in Source Interlink was Ron Burkle, who later sued Barnes & Noble and Len Riggio to try to gain control of America's largest chain of bookstores. Complex.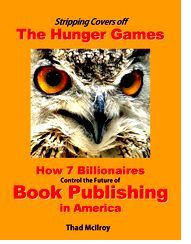 In the spirit of the age my book is self-published, priced at $2.99. I'm using the excellent Smashwords to distribute to EBA – Everyone But Amazon. I placed it directly onto Amazon, avoiding the Lending Library, which I don't believe in. The most time-consuming part of the process was stripping most of the formatting out of my well-built Microsoft Word file.
April 10: I'm still a Smashwords fan, but have had a few hiccups with the system and decided to upload to Barnes & Noble directly, as well as to Google and to Kobo (encouraged, in part, to have a first-hand experience with each publishing system). Loading my Microsoft Word file to Barnes & Noble's PubIt system was mercifully straightforward, easier than Amazon's Kindle. I find the resulting EPUB file to be far more readable than the Kindle Mobi file. Google is confusing and kludgy, and the book has yet to appear. Kobo isn't yet designed for the self-publisher, but the company is responsive in an antediluvian fashion.
I've been concerned lest anyone think I've got an axe to grind with Jimmy Pattison. Au contrair – before spending time in Vancouver I was only dimly aware of his existence. He stumbled into my story; I wasn't looking for him. Just to prove my bona fides here are receipts from recent purchases I've made from two of his Vancouver supermarkets:
A Loyal Customer