May 6th, 2010
Scribd is the largest social publishing company in the world. It has more than 50 million readers each month. Tens of millions of documents have been published on the site, containing over 100 billion words. Until today those tens of millions of documents have been published using Adobe's Flash. Starting today, they will be published in HTML5.
In an interview with Erick Schonfeld at TechCrunch, Scribd co-founder and chief technology officer Jared Friedman said "We are scrapping three years of Flash development and betting the company on HTML5 because we believe HTML5 is a dramatically better reading experience than Flash. Now any document can become a Web page."
To see the impact of the change, go to the Scribd site and check out "Scribd in HTML5." You'll understand the thinking behind the decision very quickly.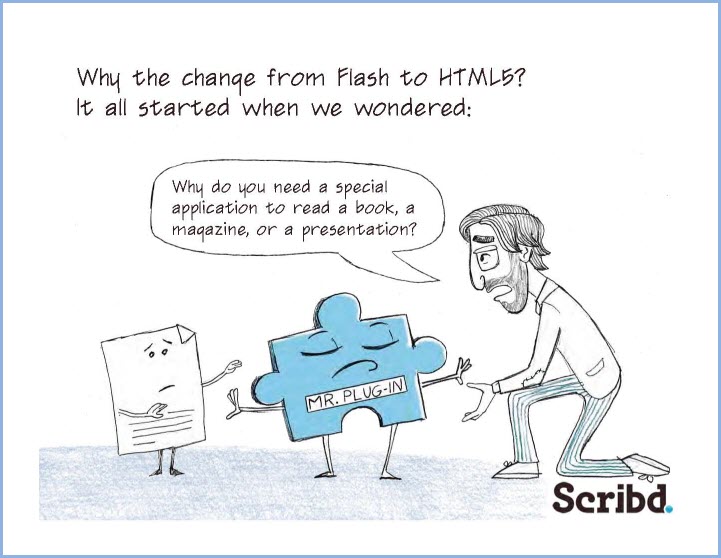 Schonfeld's article continues:
Friedman has been working secretly on this project for the last six months. You can tell he's excited about it. He believes the Web is finally ready to ditch Flash for documents. Unlike video players, the parts of the HTML5 standard that impact documents have to do with support for fonts, vector graphics, and rotating text. Friedman estimates that 97 percent of browsers will be able to read Scribd's HTML5 documents because those parts of the standard are older and more widely adopted. HTML5 documents will still be embeddable in other sites using an iFrame.

Poor Adobe. Even as it too embraces HTML5, the Web is moving away from Flash.