December 15th, 2009
The IDPF (International Digital Publishing Forum) has released its October sales figures and the records continue to be broken. As noted in an email to IDPF members:
eBook sales statistics for October 2009 have been released from the Association of American Publishers (AAP) who collects these statistics in conjunction with the IDPF. Trade eBook sales were $18,500,000 for October, a 254.3% increase over October 2008 ($5,200,000). Calendar year-to-date sales are up 180.7%.
And further:
October 2009 wholesale trade sales were $18,500,000 which is the highest single month thus far. July 2009 wholesale trade was the previous high at $16,200,000.
The association quietly once again reminds the curious that:
The data above represent United States revenues only

The data above represent only trade eBook sales via wholesale channels.  Retail numbers may be as much as double the above figures due to industry wholesale discounts.

The data above represent only data submitted from approx. 12 to 15 trade publishers

The data does not include library, educational or professional electronic sales

The numbers reflect the wholesale revenues of publishers
In other words, these numbers are probably understated if anything (provided you ignore the fact that Amazon apparently sells the bulk of its eBooks below wholesale cost).
Here's the IDPF chart showing quarterly sales: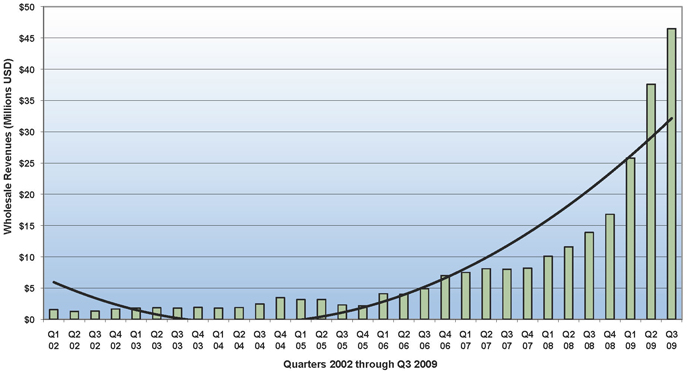 Your humble blogger notes that while these year-to-year increases are indeed impressive, the Association of American Publishers, while not yet announcing October sales, has released September's figures: "Book sales tracked by the Association of American Publishers (AAP) for the month of September increased by 12.3 percent at $1.26 billion and were up by 3.6 percent for the year." He would also note that while he cannot find the eBook sales number for September 2009, the statement above from IDPF indicates that it must have been below $16.2 million, claimed as the previous monthly high. As such, eBook sales in October were less than 1.3% of overall book sales (although there is no doubt some finagling to be done to balance retail and wholesale numbers).
We are once again reminded that there are lies and damned lies. And then there are statistics.