July 11th, 2009
A July 9th report in Adweek, quoting data from Nielsen's Global AdView Pulse, states that "Advertising spending around the world dropped 7.2 percent in the first quarter of 2009 compared to the same period in 2008."
The Nielsen site entry reports that "Though North America suffered the largest raw percentage decline of any region (-12.4%) with ad spend down 12.7% in the US, Nielsen said that Europe took the hardest hit overall…especially the individual countries of Spain (-28.2%), Ireland (-21.2%), Italy (-19.1%) and the UK (-14.7%)."
The picture would have looked worse except that "declines in global ad spend were stemmed somewhat by the Asia Pacific region, which posted only a 2.3% reduction vs. Q1 08. In Asia-Pacific, Indonesia's elections helped that country post the most significant growth, with an increase of 19.1%. China also maintained growth but to a much lesser degree (+2.5%)."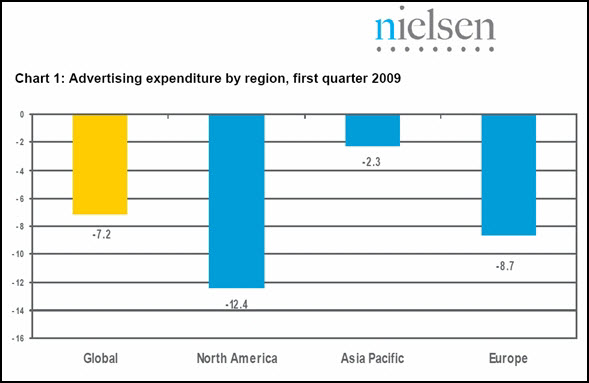 Nielsen reports also that "advertising across all four traditional major media types (newspapers, TV, magazines and radio) was down in the quarter. Magazines fared the worst, down 17.4%, while newspapers saw a 9.1% decline. In North America, magazine ad spending was down 22.2 percent, while newspapers were off 15.6 percent.
Virtually all industry sectors were affected. "Automotive, financial services, and clothing and accessories — which Nielsen said tend to be particularly vulnerable to financial turmoil – posted the largest losses in ad spend, down 19.9%, 16.7% and 15.7% respectively."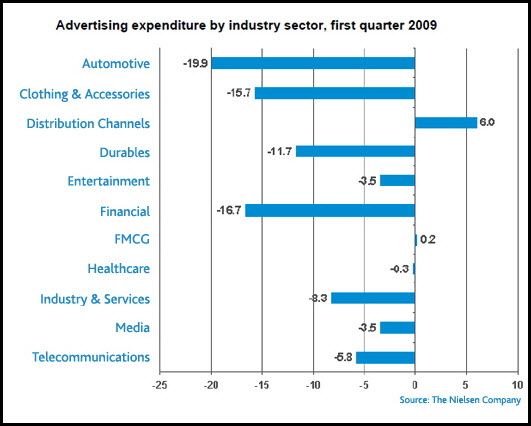 There was no mention of Internet advertising. However in a June 5th report, the IAB announced "In a recessionary environment that has hit other media sectors with greater force, Internet advertising revenues in the U.S. were at $5.5 billion for the first quarter of 2009, according to the numbers released today by the Interactive Advertising Bureau (IAB) and PricewaterhouseCoopers LLP (PwC). The figure represents a 5% decline over the same period in 2008.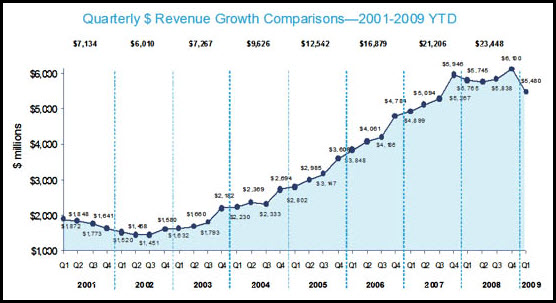 Nevertheless, as David Silverman, PwC Assurance partner, noted "Current economic conditions are clearly challenging. Nonetheless, interactive media continues to consume a larger piece of the overall advertising pie."
True. But also a reminder that even the mighty Internet is vulnerable in tough times.