July 20th, 2009
There's something truly magical when you discover a phenomena that could be judged as very technologically small and yet becomes something very big (in the "real world"). Such an incident has occurred around Brushes, an iPhone/iPod Touch application that can create lovely illustrations, deep and emotional in nature, all for $4.99 on the Apple devices at the iTunes store (where I find that it is significantly outselling "Brushes [Never Going Back Again]" by Fleetwood Mac, available for a mere 99 cents).
I first learned about Brushes while visiting New York in June. A colleague who works at a large publisher there happens also to have a significant talent as an artist and showed me several illustrations he had created while standing in line to get into a first-run film. He also directed me to The New Yorker.
Brushes fame was assured when the June 1, 2009 cover of The New Yorker featured an atmospheric Brushes illustration by the amazing Jorge Colombo.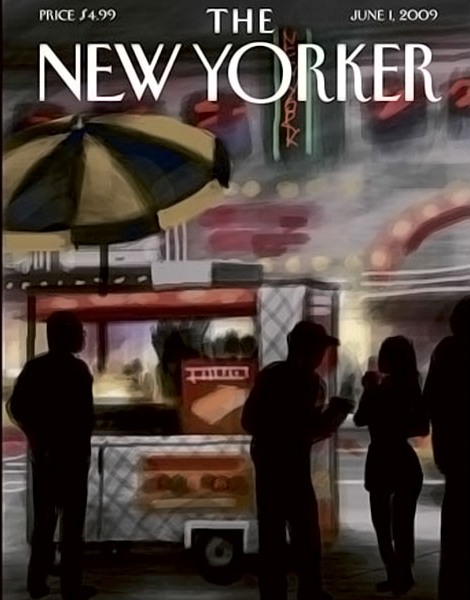 I'm not certain whether The New Yorkerhas published any other Columbo covers since the first, but they're clearly enamored of his work, as they now devote a regular online feature to it.
Like so many software programs, Brushes does not appear to have been intended for the use that it's now finding. The manual seems most enamored that you can create a little video that shows how your painting was created. There's no information in the manual on how to convert your Brushes image into something that can be printed on the cover of a magazine with a 1 million circulation!
What fun…may the technology business spawn a hundred more Brushes!