The Truth about New Business Models for Book Publishing
August 15, 2012 by Thad McIlroy
It was just luck that I stumbled into the best session of the entire BookExpo last June in New York. The session was outside of the main program and it hadn't been promoted. But I was between meetings and the title "CEO Panel on New Business Models" sounded pretty good. Plus I'd heard each of the speakers present before and it was a strong panel:
F+W Media CEO David Nussbaum
Sourcebooks founder & CEO Dominique Raccah
Safari Books Online CEO Andrew Savikas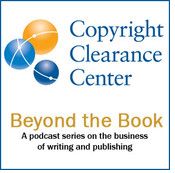 An unexpected pleasure was moderator Christopher Kenneally from Copyright Clearance Center (CCC). Talk about the perfect combination of convivial and well prepared. Christopher could easily host his own talk show.
Because the session was little publicized there were about 50 people in the audience in a room that could hold hundreds. I sat down in a front row and before I knew it was jotting notes like crazy.
Before I share my thoughts, I need to point out that this is an experience you can enjoy without my bias filter. Copyright Clearance Center are very generous with the conversations they sponsor and this talk made it to Podcast #301 in their Beyond the Book Series, and you can listen online or download the mp3. For those who prefer the text there's a carefully-edited transcript available online as well. Kudos to CCC and the participants.
The most important takeaway from this session is that we can stop wondering about publishers selling directly to readers and listen to these three bright and experienced executives describe in solid detail how they went about making direct sales a core part of their businesses. You'll hear a lot of talk about consumer databases as part of the solution.
I've always seen the problem for trade publishers in selling directly to book buyers and readers as their traditional lack of subject focus. No blame to the publishers: subject focus was always the domain of specialty publishers. Trade publishers could be (and often were) called general interest publishers, as their titles ranged over a broad range of public topics. A New York trade publisher might have three Italian cookbooks on their list, but that was hardly a reason to open an office in Rome.
Both F&W and Sourcebooks are notable for creating a home to multiple special interests, though they remain selective. F&W's Nussbaum said that they now serve 18 communities. Raccah didn't provide a number but Sourcebooks' site lists 8 imprints; there are 7 categories in the fall catalog.
Safari Books Online is an anomaly in the crowd, the most difficult model for a trade publisher to follow. For one thing its audience is rarefied: technology, IT and management professionals. It's a group that co-parent company O'Reilly Media was already successfully reaching. O'Reilly brought a lot of credibility to the party. Partner Pearson was no slouch either, owning many of the largest "prosumer" computer book imprints like Addison-Wesley, Peachpit, SAMS and QUE, as well as a range of Pearson textbooks.
From Savikas you can gain key insights into subscription models, a much coveted revenue channel. "In the same way that Netflix has found a very successful part of the ecosystem for movies and TV shows, I certainly see a lot of consumer interest in paying for a subscription model access to at least some type of libraries of content," Savikas said.
What I found most compelling in his presentation was how Safari has moved beyond viewing themselves as just a supplier of books. "The problem we're solving," Savikas said, is, for example, where a company "has employees who need to solve technical and business problems and challenges. They need to learn and develop their skills. That's what we provide."
As Nussbaum said, it's no longer just the content of a book that they acquire, it's content that can be deployed in multiple media for numerous revenue streams. So too Sourcebooks and Safari: the book is just one instance of the content. "We take the one piece of content, the book," said Nussbaum, "and there's a 'content explosion', as we call it in our company. And it becomes many, many other revenue sources."
As I understand it all three of these companies are profitable and growing, and have been consistently successful for multiple years. In an industry that is at best flat, these models are succeeding. Sure there are some other compelling solutions out there but every publisher would be well served by asking: What can I learn from F&W, Safari and Sourcebooks?
PS: If you're wondering how I finally got around to writing this up, a few months late, thank "weather in New York."

Signing off from ORD!
0"/>