April 18th, 2016
Netflix released its latest quarter earnings report today. In a Letter to Shareholders (PDF), Netflix CEO Reed Hastings described the competitive landscape the company faces. In doing so he framed the challenge faced today by all publishers, certainly all book, newspaper and magazine publishers. I'll quote directly:
If you think about your last 30 days, and analyze the evenings you did not watch Netflix, you can understand how broad our competition really is. Whether you played video games, surfed the web, watched a DVD, TVOD, or linear TV, wandered through YouTube, read a book, streamed Hulu or Amazon, or pirated content (hopefully not), you can see the market for relaxation time and disposable income is huge, and we are but a little boat in a vast sea.
Of course Netflix is playing in a different arena than print-first publishers. It's continuing growth is all-but-assured by two trends. Total hours of video viewing continue to increase (up 16% since 2011). And an ever-increasing portion of that viewing is streaming video.
The U.S. Bureau of Labor Statistics American Time Use Survey offers the classic chart that puts reading in per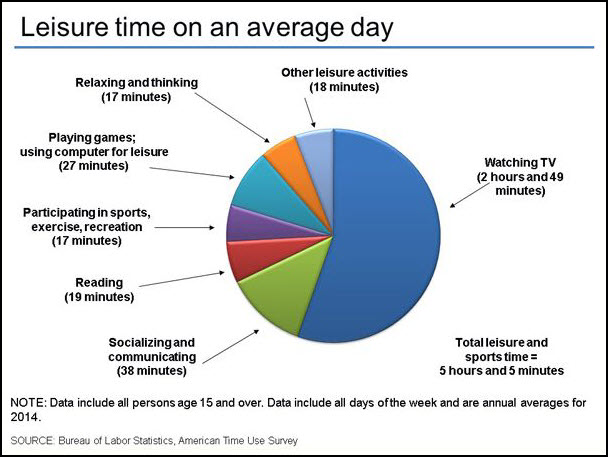 perspective against other leisure-time activities. Watching TV commands nearly 9 times the attention of teens and adults as does reading (and that's reading of all kinds, not just books, not just newspapers, not just magazines).
Endless surveys hammer home the sad news that print readership continues to decline both for newspapers and magazines (and online isn't making up the difference). What's been happening to books? Different surveys have used different terminologies and methodologies and the results can be contradictory. But the picture is far from grim. The best source of data is the Pew Research Center 2012 report The Rise of E-reading. Part 2 drills down on the general reading habits of Americans.
On the one hand the percentage of adults, overall, who say they haven't read a book in the last year has climbed noticeably since 1978. On the other hand, the youngest demographic surveyed, ages 16-17, were the most likely to have read a book in the past 12 months. (Interestingly, while seniors are the least likely to have read a book in the last year,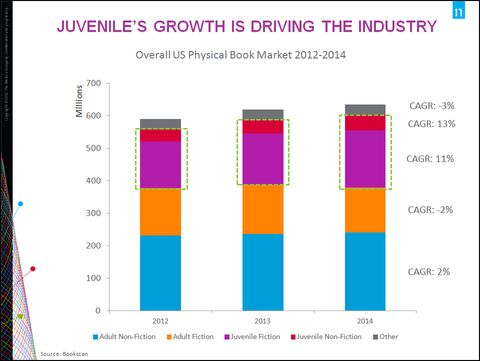 they turn out to be the heaviest readers overall.)
According to Nielsen, the juvenile books are the driving force in the overall U.S. print book industry. (Although the data might not be revealing about young readers. The same report includes an estimate that 80% of young adult books are bought by adults for themselves!)
What to conclude? The news for authors and publishers is very good overall. Book sales are holding their own and the books are reaching a new generation of readers. But as Netflix's Reed Hastings notes "we are but a little boat in a vast sea."