June 18th, 2014
Several journalists took a small segue today in their coverage of the launch of the Amazon Fire Phone to note that Amazon's Kindle Fire has been extinguished. Or nearly so. Based on IDC's May report, the Kindle Fire has only 1.9% of worldwide tablet shipments, down 47% year-to-year.
However Amazon doesn't make mobile devices to capture hardware marketshare. It wants to form a tighter bond with its customers, one that bonds them to shopping Amazon. "The most important thing that we've done over the last 20 years is earn trust with customers," Amazon CEO Jeff Bezos said at the launch today. This led logically to a straightforward explanation of Amazon's planning for the phone. Bezos said that Amazon executives simply asked themselves, "Can we build a better phone for our most engaged customers?"
Over at Mobiquity, Gene Signorini pointed out that the Kindle Fire Phone is "not about devices sold per se, but rather about the sale of content and merchandise and the overall value per Prime subscriber." Amazon need only convince some 10% of (an estimated 20 million) Prime subscribers to buy the new smartphone to sell two million devices. "However," he notes, "this would only represent about 1% of total US smartphone market share" in a six-month window.
Jeremy Greenfield at Digital Book World asked me for comments earlier today, in particular how the device might affect ebook sales. He printed a couple of my remarks in his Forbes report on the Amazon launch. Here is my full analysis of its likely impact on publishing: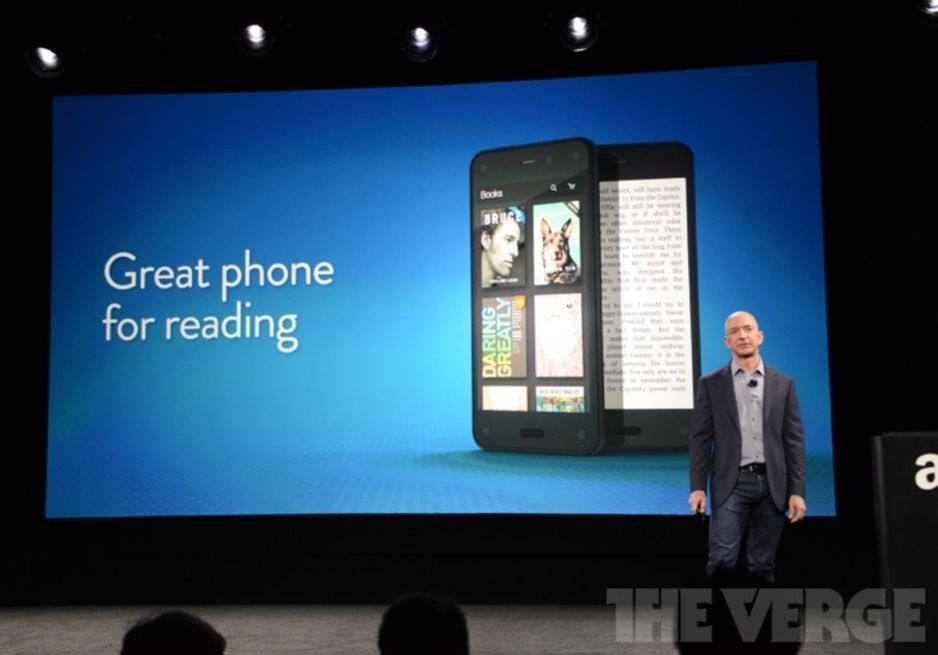 The phone is….do we call it "sexy"…with new (or recent) features like the 3D cameras, Firefly, Mayday and gesture controls.
The Firefly feature, which quickly recognizes products and gives you the option to buy them on Amazon, is bound to increase showrooming, including buying books from Amazon. But in the case of showrooming, the total number of books bought doesn't change much, and shifting more book buying to Amazon apparently decreases publisher margins and clearly dimishes the power of book retailers.
The 4.7-inch display is better for reading than the iPhone 5's 4 inches. Bezos did highlight that it will be "a great phone for reading." In the research I've been doing for the report "Mobile Strategies for Digital Publishing" (to be published next month by Digital Book World) it's very clear that reading is not a significant use for mobile phones today. Though with all of Amazon's reading-friendly features this will be the best-yet phone for bibliophiles.
The downside is that not only is the mobile experience not optimal for reading, it is optimal for other purposes. Mobile is mainly about social media, texting, gaming and video. Each of these is more compelling on mobile than reading — you don't buy a phone to read a book.
Also Amazon's decision to go it alone on the OS — cannibalizing but not fully supporting Android — means that none of the top Google apps — Gmail, Maps, and Chrome — are available on Amazon mobile devices. Amazon's substitute apps pale by comparison.
I'm sure the phone will take a share of the market [September, 2015: I certainly called this one wrong!], but with aggressive competitors like Apple, Samsung and Microsoft, that share won't be easily gained. It's good news for readers, but probably won't much move the needle in terms of overall ebook sales.
But I wrote that before I read Bezos's remark that the phone targets Amazon's "most engaged customers," and not, apparently, the much broader base of mobile phone users. Amazon Prime is the conduit helping consumers to get a better deal from Amazon, if they plan to spend lots of money with the company. The Amazon Fire Phone is another input device helping Prime users to fulfill their task.
June 19, 2014: Jeff Bezos, interviewed in the New York Times, says: "The phone will make Prime memberships better, and Prime looks great on this phone. It's not that there's no interaction between these elements. But to say that's the primary purpose is too simplistic." Farhad Manjoo comments in a related article "Though the device is called the Fire phone, Amazon's new gadget is less a phone than a pocketable cash register hooked directly into the retailer's intelligent warehouses."
June 20, 2014: Christopher Caldwell in the Financial Times: "(The Fire phone) has more to do with connecting Amazon's customers to merchandise via credit card than it does with connecting them to other people via conversation."
June 22, 2014: @BenedictEvans provides the best analysis thusfar of the Amazon Fire Phone with an emphasis on Amazon's "fork" of Android — are they solving a user problem or their own business problem?
August 26, 2014: Geekwire: "Amazon Fire Phone sales estimated at 35,000."
September 8, 2015: New York Times: "Amazon Cuts Struggling Phone's Price to 99 Cents."
September 9, 2015: The Verge: "Amazon extinguishes the Fire Phone"
October 28, 2016: GeekWire: "One of Amazon's biggest failures was its attempt at developing and selling a smartphone. Bezos hopes the company has more failures like that, but even bigger ones.
"At Amazon, we have to grow the size of our failures as the size of our company grows," he said. "We have to make bigger and bigger failures — otherwise none of our failures will be needle movers. It's a very bad sign over the long run if Amazon wasn't making larger and larger failures. If you do that all along the way, that is going to protect you from ever having to make that big hail mary bet that you sometimes see companies make right before they fail or go out of existence."