July 2nd, 2013
Bankruptcy filings amount to hundreds of pages. If you're interested in Cengage Learning's bankruptcy and want to read the source documents start at the Cengage site on a page called "Information About Our Restructuring." At the bottom of the page you'll find a link to "Claims Information & Court Filings," where many of the meaty documents reside, including a set of "Court Docket" filings. The first reveals that the Chapter 11 voluntary petition fee is $1213. Not bad, given that investors are facing a write-off of some $4 billion of the $7.75 billion spent to acquire Cengage from Thomson in 2007. (Three days later Thomson announced it would buy Reuters for $17.2 billion and it was then obvious that a grand plan had motivated the sale of the Thomson educational publishing division.)
Of greatest interest to players in the publishing industry is Exhibit A on Cengage's Investor Relations/Announcements page, the oddly-named "Blowout Materials.pdf." It's a 76-slide presentation titled "Operating Plan." The Executive Summary is unusually frank. It leads off with an admission that "the traditionally stable Higher Education publishing market…recently gone into decline." Cengage, furthermore, "is underperforming the market primarily driven by its digital execution." The "poor market conditions" will only slowly improve "as digital penetration increases" but this will result in only "modest industry growth going forward." After these admissions the Summary goes on to the usual reassurances that the problems at Cengage have been identified and are already being addressed. The new plan "has achieved significant early traction." Sure. Why not.
The Cengage Learning operating plan is not likely to excite investors. The company will continue to shrink through 2015, and then begin to slowly grow into FY 2018, with sales five years from now just 5% higher than FY 2013. The earnings are projected to grow slightly faster, moving the company from losses over the next two years to an EBITDA in 2018 11.4% higher than in FY 2013. The foundation somehow feels shaky.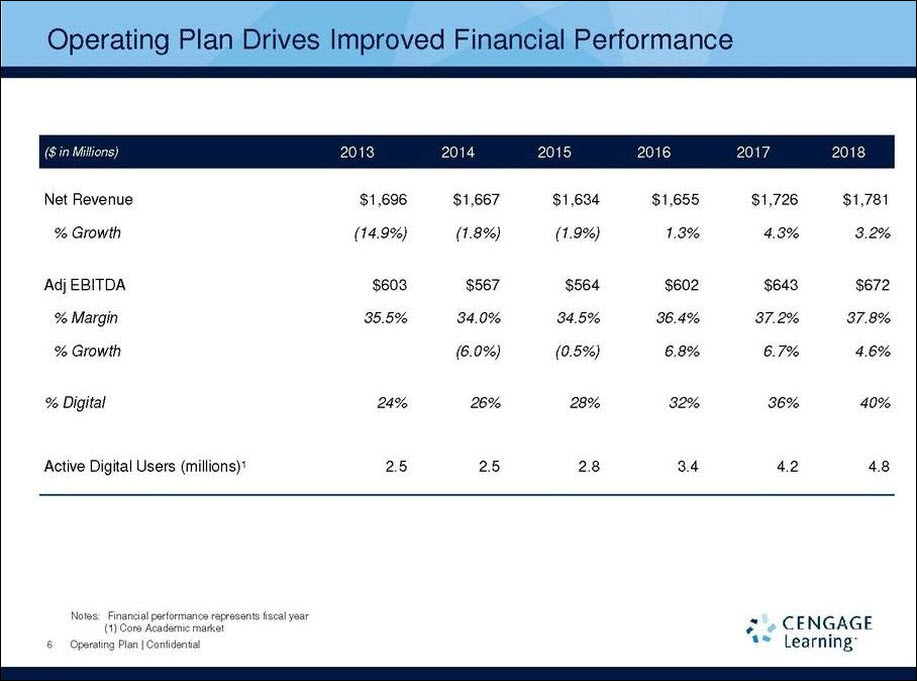 Up next is another speculative financial analysis, this one trying to pin down where the savings are going to come from in the next three years that will return Cengage to profitability. A third of the $100 million in targeting savings are TBD. The only number that you can be sure will be achieved is the staffing reduction of over $50 million. Companies are good at that. The reductions in contracts, facilities and travel/entertainment are so low as to be uncontroversial.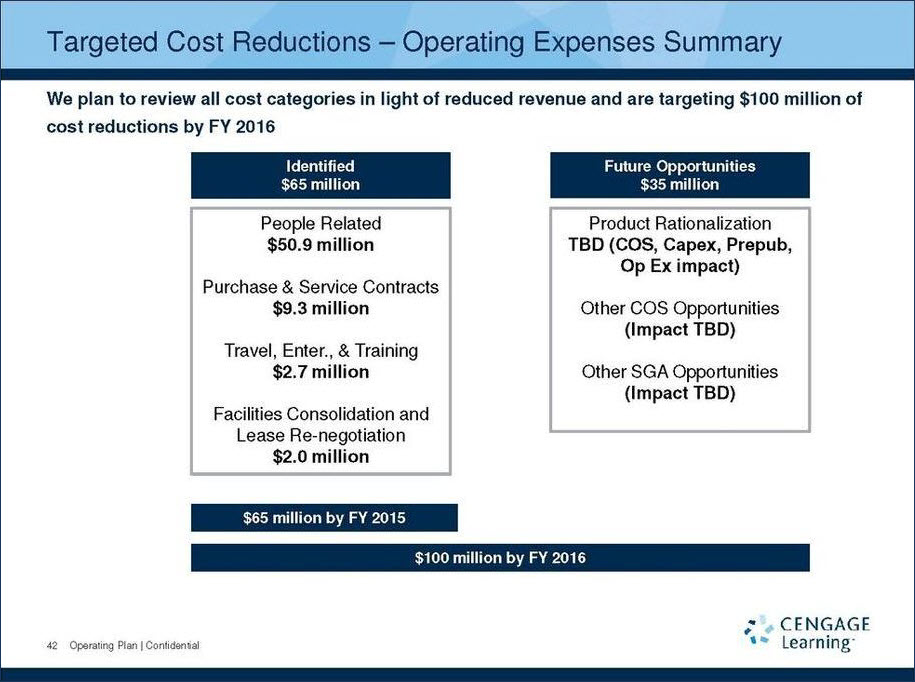 A slide that startled me reveals the core problem faced by Cengage and (perhaps to a slightly lesser extent) by its competitors. Print sales of new books have dived some 50% from their mid-90s levels, and after a pause in the early 2000s, have resumed their downward march. Print sell-through is now less than a third of total units in schools. Also, growing significantly faster than ebook sales, are the rentals of used textbooks which are hitting both rentals of new titles and new print sales. Yikes.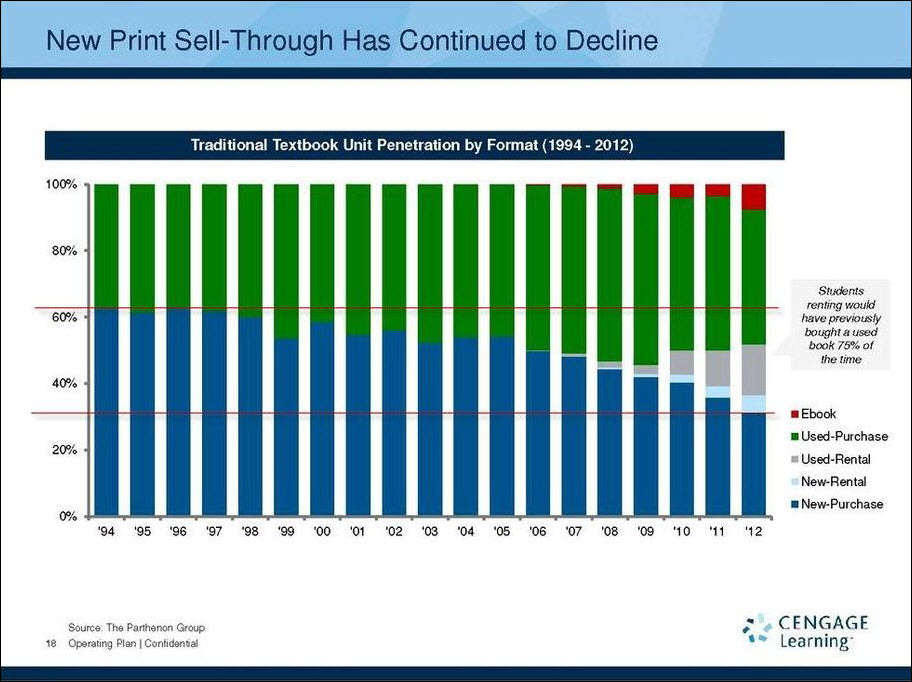 There's lots of additional market and competitive information in the slide deck: well worth a gander for those who care about these things.
Online at Claims Information & Court Filings you'll find a section called Voluntary Petitions. Click any of the four links on that page to see the hit list of "Creditors Holding the Top 30 Largest Unsecured Claims," the banks, the vendors and the authors that will likely be taking a bath in this Chapter 11 reorg. Amounts range from $292 million owed to Wilmington Trust, a division of M&T Bank ("$83 billion in assets as of December 31, 2012") to Silverbull Software, facing a loss of $389,951 ("Silverbull Software provides number of technology solutions and support services for Global Clients looking to add a competitive advantage in our clients target industry"). Just slightly less, at $392,748, is Globus Printing Company, "family owned and operated since 1957."
The filing also suggests that Cengage has exposed its bestselling authors to credit risk. The hit list includes six very high grossing individual textbook authors, all male, owed a total of $4.1 million in royalties (aspiring self-published authors take note!).
N.Gregory Mankiw        $1,618,249
Jackson J. Spielvogel     $626,676
Carl S. Warren            $489,509
Eugene F. Brigham         $473,918
David Nunan               $472,856
John C. Kotz              $428,352
One of the numerous documents filed by Cengage today seeks to restore these royalty payments: it's very much in Cengage's interest to retain its top earners. Still I'm surprised that the agreements reached in preparation for today's filing would not have already addressed this embarrassment. I went back through the files to Houghton Mifflin Harcourt's May 2012 filing and none of its authors were similarly exposed.
I'm not sufficiently expert in the machinations of bond holders to understand exactly what's going on behind the scenes at Billionaire Central. In April the Wall Street Journal reported that Apax Partners had purchased more than $800 million of Cengage's discounted debt. This puts Apax into the position of being both the major owner of Cengage, about to take a big bath, but also a senior secured creditor of Cengage, which would potentially restore its powers to direct Cengage's corporate destiny. Perhaps unsurprisingly the report notes that "the strategy, while legal, is somewhat controversial."
Last December the New York Daily News revealed that Apollo Global Management, while forging a deal to buy McGraw-Hill's education business for $2.5 billion, also purchased a "significant debt position in cash-strapped Cengage Learning." The Daily News speculates that the long-term play is to merge McGraw-Hill and Cengage. With the final merger of Random House and Penguin only 48 hours old this scenario is certainly plausible.
Stay tuned.
July 4, 2013: There's a revealing article in today's Financial Times (UK): "Debt investment in Cengage backfires on Apax Partners." According to journalist Henry Sender, "it is clear that buying (the Cengage debt) has only amplified the buyout group's (Apax) losses. In addition… Apax has opened itself up to the charge of conflict of interest by purchasing the debt of a company it already controls."