March 9th, 2012
My friend Anakana Schofield's debut novel Malarky is about to be published (by the excellent independent publisher Biblioasis) and I saw on Facebook that she was going to launch the book with a reading at the Vancouver Public Library so I wanted to make sure I'm there on March 21st.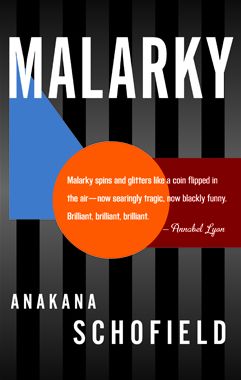 I went to check out the details of her reading and I learned that two other authors would be reading with her. First is Tamara Faith Berger, a BC writer launching her new book Maidenhead, also coming from a small independent publisher, Coach House Press, one of Canada's finest. The other is a new name, Benjamin Wood, who's launching his first novel, The Bellwether Revivals. It's already out in the U.K., and getting some solid reviews.
I thought I might buy a copy and read it before the book launch so I searched on Amazon.ca.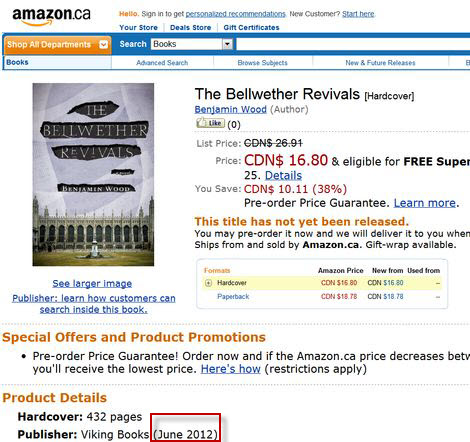 That was odd: not yet published, and not till June. Why would he do a reading in March?
So I checked out the second largest online bookseller in Canada, Chapters/Indigo. They showed the book with a different cover. It wasn't available either, but the release date showed as March, not June. The publisher was listed as McClelland & Stewart, a large publisher based in Canada.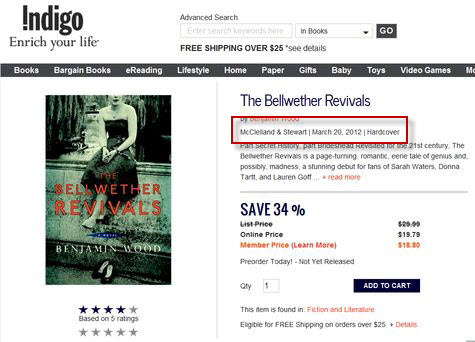 At McClelland & Stewart's site I confirmed the publication date. But the edition they were showing was an ebook. That surprised me: Chapters/Indigo advertised only the hardcover.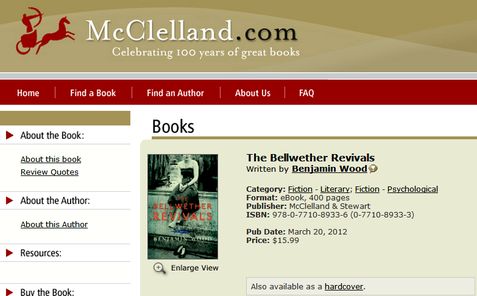 Another search link was to the BookNet Canada (BNC) listing for the title. BookNet is the Canadian non-profit agency, well-supported by taxpayer funding, which "finds and creates solutions that make it easier for Canadians to buy books, sell books, reach new audiences and ride the ever-cresting wave of new technology." For some reason they don't show the ebook edition from the publisher's site. I wondered if perhaps the ebook edition had been cancelled.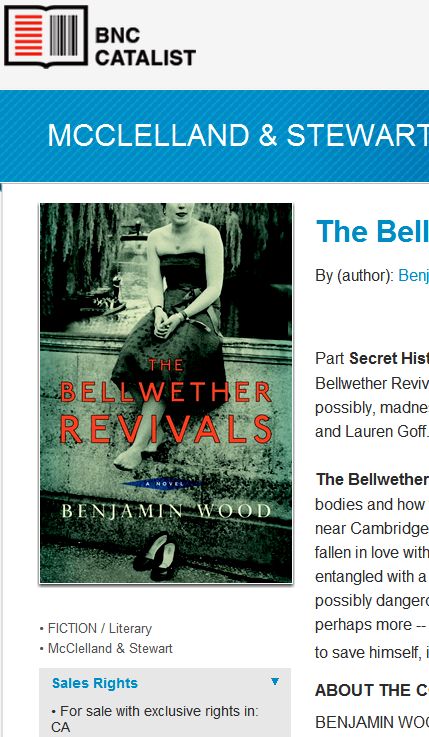 I checked more closely at Amazon.com and they advertise a Kindle ebook, but still with a summer publication date.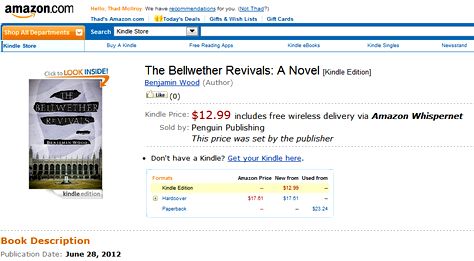 The same at Barnes & Noble.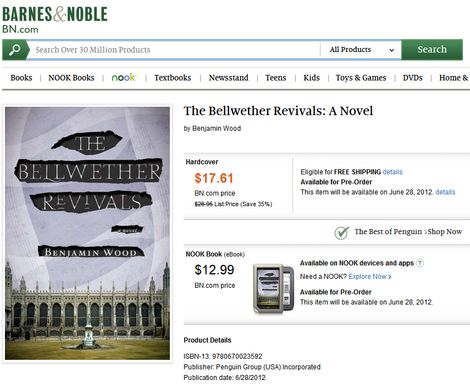 How odd. Apple shows the U.S. ebook and separately a UK version for £6.99. But Apple's cumbersome registration system wasn't going to open the door to me.

Next I checked on Amazon UK for the Kindle version. But Amazon's cumbersome registration system would have none of it.

Now aware that the U.K. ebook was actually available, I persisted in that country. I tried Waterstones. But for some reason they had only the hardcover.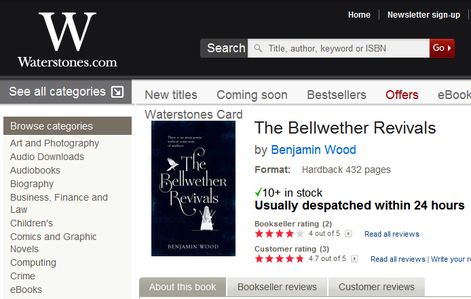 The Book Depository also features solely the hardcover but, getting desperate, I thought I'd see if it would at least be salable abroad. Yes, they were willing to sell it to me.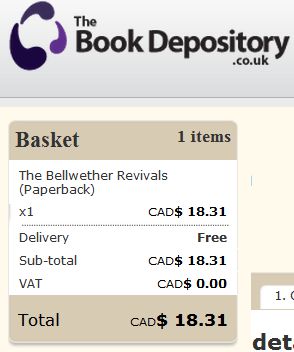 What about Sony? They used to be an ebook player. A Google search revealed some happy news. Benjamin Wood and The Bellwether Revivals had been shortlisted for the inaugural Sony Reader Award for unpublished writers under 30 (as part of the 2010 Dylan Thomas Prize). Apparently the honor does not include publication in the Sony ebookstore, as The Bellwether Revivals drew a blank when I searched there.
Next stop India. Flipkart had all three international hardcover editions available to order, but none of the ebooks.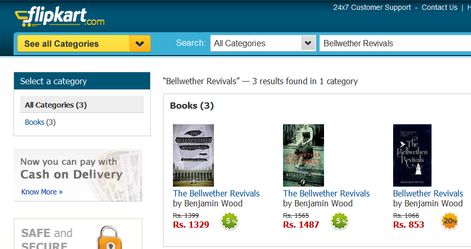 I was left with no choice: Australia.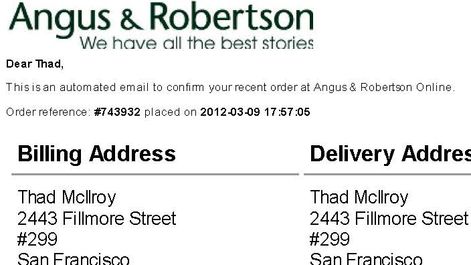 Well, Angus & Robertson, you don't respect international copyright agreements, that appears certain. But your service suits me. After visiting a dozen sites in four countries I owned a (technically illegal) copy of the ebook at a price of $17.99 AUS.
Lesson for authors: Publishers never could get your book on sale in time for your signing: it's one of the most common complaints about book publishers. If you hoped that ebooks were going to solve that problem, you're wrong.
In this new digital world publishers can find several new ways to mess up the supply chain. Dates will be screwed up, and editions listed all wrong. Pricing will be inconsistent.
I see in the acknowledgements at the end of The Bellwether Revivals the author graciously thanks "the hard-working teams" at each of his three international publishers: Simon and Schuster (UK), Viking Penguin (U.S.) and McClelland & Stewart (Canada). Sadly for Benjamin Wood they're not working hard enough.
While I was researching the book last night a very favorable review appeared in the top local newspaper, The Vancouver Sun. Surely the book must be available for sale locally if McClelland & Stewart, the publisher, is now pushing for reviews. Nope.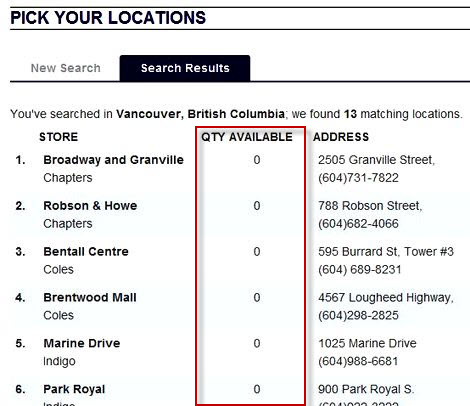 Publishers work hard to make good books happen. But when the final outcome of all of that energy and effort is books unavailable when the great reviews appear I can only ask: how can we improve this system?
UPDATE, March 10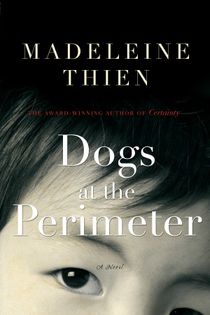 Tim Bray's latest blog entry talks about the novel Dogs at the Perimeter by Madeleine Thien, of whom he'd never heard but who turns out to be from Vancouver, Tim's home town. The Economist had a rave review in this week's issue. Bray continues:
And to have created a Dogs at the Perimeter Tumblr, which is full of severe formal beauty. So I thought I'd buy it, but the Kindle version was $18.03 and that bothered me.
In the end he founds Dogs at the Perimeter at "only $15.99" over at Google Play books and purchased it there.
My comments:
Tim: You succeeded in highlighting the Kindle edition that was NOT supposed to be available in North America…the edition that WAS listed on Amazon.com was the U.K. Granta-published version.
Amazon no doubt has received a complaint from McClelland and Stewart who hold North American rights to Dogs. But somehow Amazon had a digital disconnect and was selling the "Lost Dog Recovery Guide" at the link from the M&S site: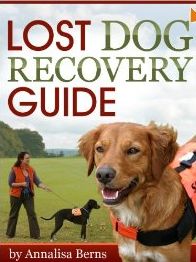 If you click the other M&S links, to Kobo & Sony (but not to Google), the correct edition shows up for roughly $15.95.
You can buy the Granta ebook very slightly cheaper from Angus & Robertson in Australia — they'll sell anything to anyone.
I'm sure that all of this seems like a great tempest in a tiny teapot to anyone not in the business. At one level it is. Much of it has to do with how publishers traditionally negotiate geographic publishing rights, which made all kinds of sense in a world of physical books but makes next to no sense in a world of ebooks.
The tediously technical but ultimately more important issue is the digital plumbing that leads to these errors. Publishers send out weekly data dumps to resellers like Amazon, Google and Apple, which contain the book title metadata describing pricing, availability, territorial rights (and much more). This process is also broken. The BISG and BookNet Canada recently commissioned a study to look at the problem in more detail. But fixing it will take time — time that authors and publishers can ill-afford. As of today you cannot purchase from Amazon.com or Amazon.ca an ebook edition of Dogs at the Perimeter by Madeleine Thien. You can buy it elsewhere. But, as we all know, the impulse to purchase is fleeting. We move on.
March 21: I originally titled this post "How Publishers Fail Authors." But the problem lies with the metadata, the ecommerce-oriented data about each book. The industry settled on the ONIX standard some years ago. Because of the many variations in the way books are described and categorized ONIX is robust and complex. Unfortunately it is too complex and too much subject to interpretation. Compounding the problem Amazon, Apple and Barnes & Noble all implement metadata ingestion and display in slightly different ways. The BISG and BookNet Canada have commissioned a study to identify the problems as a first step towards addressing them. Writers and readers are waiting.