November 30th, 2010
The New York Times is positively bursting with fun and fascinating reading for publishing technologists. There's a nifty little tablet comparison feature, which will allow you to create your own comparison chart like this one: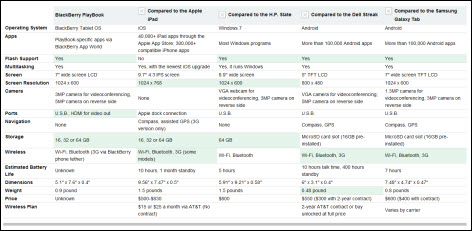 Your chart will be larger, and might just compare the two tablets you're lusting after the most. Keep in mind that if your lust is still iPad-directed the rumor of the week is that the next version will be announced in January, rather than next April, so buying one for yourself for Christmas may lead to a New Years' hangover. And then again, next week's rumor could change that.
[12:18 pm: On ZDNet today:
It's becoming increasingly difficult to pretend that tablets aren't hurting PC sales….
In a statement, Gartner said:
Over the longer term, media tablets are expected to displace around 10 percent of PC units by 2014.]
David Pogue, the best all-around tech writer today, aslo celebrates ten years of writing about technology for the Times (and many more years elsewhere).
Pogue offers some choice insights "from the first decade in the new tech millennium." Here's a few:
1. The history of consumer tech is branching, not replacing…You want to know what the future holds? O.K., here you go: there will be both iPhones and Android phones. There will be both satellite radio and AM/FM. There will be both printed books and e-books. Things don't replace things; they just add on.
2. Some people's gadgets determine their self-esteem. (And they sure can get defensive!)
3. The same "breakthrough" ideas keep surfacing — and bombing, year after year. Some concepts' time may never come.
And my personal favorite:
4. Nobody can keep up…if you're feeling overwhelmed, you're not alone.
I've been in the publishing business for over thirty-five years and in the tech side of the business for more than twenty-five. Publishing was relatively staid. Tech was always crazy.
I'm older now, but everyone I talk to who's been on the circuit for more than a minute knows that the pace of technology change is still accelerating. If you want to understand the future of publishing bear this in mind. Technology is not a moment, it's a process. And it's a process that develops more rapidly than 99.9% of humans can absorb. Which should therefore slow things down. But it doesn't.
If you can figure out why technology moves faster than people's ability to absorb it you will be awarded a Bernoulli drive.