October 11th, 2010
You thought you dislike online banner advertising? Perhaps you've even installed software like Ad Annihilator, Adblock Pro or Super Ad Blocker to block banner ads from appearing. Or, more likely, you've trained yourself to just filter them out, to generally ignore these intrusive ads.
Do not despair. Now you can renounce your bad habits and regain the consumer karma that you lost. The just-announced AdKeeper lets consumers click to save online ads. Yippee. Now you can see them whenever you're thinking, "Boy, I sure wish I could look just at online ads and avoid all that pesky web site content."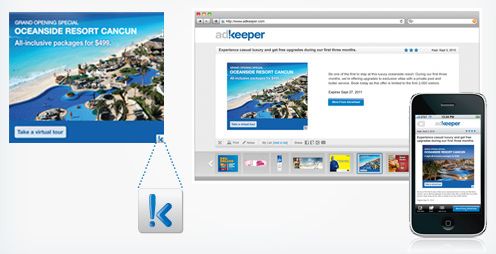 Or, as the company press release states, AdKeeper is:
…a transformative online advertising service that will forever change the way consumers interact with the Internet. With one simple click of a button, consumers can place ads of their choice into their personal 'Keeper™," offering them absolute control to save, sort, sift, share, rank, review, click, print and buy online from ads they have specifically selected… One Click. Kept. Period.
And here you thought the business world ground to a halt on Columbus Day. (Canadians celebrate Thanksgiving today, and now they've got one more thing to be thankful for.)
AdKeeper is founded by Scott Kurnit, self-declared as "one of the nation's most successful online media entrepreneurs." He's also the founder of About.com, the web site that continues to prove that superficial, badly-written and inaccurate information can make money in these still-nascent days of the Web.
Strangely the advisory board of AdKeeper includes some strong players, including John Battelle, Jeremy Allaire and Esther Dyson. Their presence makes me wonder if I'm missing something here: maybe there's a benefit to mankind to be able to keep ads nearby, like old teddy bears or childhood photos.
Until I figure it out I'm calling AdKeeper "The Dumbest Publishing Startup of 2010."
Update, March 6, 2011
According to MediaPost Volvo will be one of the first advertisers to use the AdKeeper button, starting next week.
A video on the AdKeeper site provides a straightforward explanation of AdKeeper's straightforward value proposition. Advertising on the Internet, it says, has been modeled on television, while it would have been better to have modeled it on print. With print some consumers like to clips ads for later reference. Now it's possible on the Web.
Of course it has always been simple to save ads in GIF, JPEG, PNG and other 2D-only formats. Only Flash-based ads are difficult to capture. AdKeeper adds metrics to this practice.
Stay tuned.
(According to the AdKeeper site, the current #1 kept advertisement is for Wendy's Bold New Asiago Ranch Chicken Club: "Wendy's new Asiago Ranch Chicken Club. Tender, juicy chicken breast fillet topped with Applewood Smoked Bacon, aged Asiago cheese and a creamy ranch sauce. Available in spicy, grilled or homestyle." Yum.)
Update, June 27, 2011
A balanced report in The New York Times, which demonstrates, among other things, how to reduce 45 minutes of my blather into a two-sentence pithy quote.
February 20, 2014: Adage: "What You Can Learn From Adkeeper's Epic Fail (And Pivot)"
August 21, 2014: Digiday: "Throwback Thursday: Whatever happened to AdKeeper?"