August 30th, 2010
…I'll believe that the printed book is dead. When they stop printing a thousand dollar 20-volume dictionary, wisdom prevails.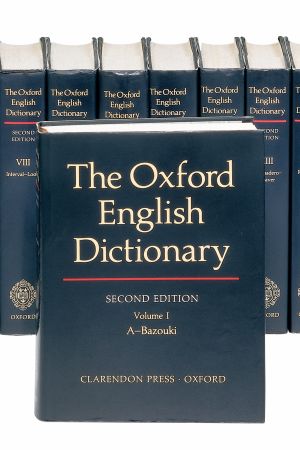 If you're a cheapskate, you can buy the miniature version for five cents less than $400, and they'll toss in the magnifying glass!
Making the rounds of the blogosphere, Twittersphere and ignoramosphere today is the inaccurate but inflammatory headline originally from the U.K.'s Telegraph: "Oxford English Dictionary 'will not be printed again'."
Note that "will not be printed again" appears in quotation marks. Isn't that supposed to mean that the article features someone in authority stating that the Oxford English Dictionary will not be printed again? But no one says that in the article. Nigel Portwood, the chief executive of OUP, asked if he thought the third edition would be printed, he said: "I don't think so."
Later in the article "A spokesman for the OUP said a print version of OED3 could not be ruled out 'if there is sufficient demand at the time' but that its completion was 'likely to be more than a decade' away.
More than a decade away. If anyone at Oxford University Press can make accurate predictions of what will be happening 10 years+ from now, they should be in the prognostication business, and forget lexicography.
I've got to run to the eye doctor now, and will finish this posting later…