April 6th, 2010
About the only number anyone can agree on is that roughly 300,000 iPads sold in the U.S. last Saturday. Apple's own press release admits that "these sales included deliveries of pre-ordered iPads to customers, deliveries to channel partners and sales at Apple Retail Stores." No one is revealing the percentages in each of those three categories. The inclusion of "deliveries to channel partners" is troubling, because deliveries to resellers may not be the same as sales to end-users. But if Best Buy's experience is any indication, they would likely be one and the same.
In an April 2nd press release Best Buy stated that "Apple's new iPad will be available in the 673 Best Buy stores that carry Apple products beginning Saturday, April 3. Three Wi-Fi iPad models will be on display for customers to see in the Apple Shop locations at these stores." And in the next sentence: "Quantities for purchase will be limited." According to credible scoops from several sites including TUAW.com, Best Buy had only 15 units per store last Saturday. It's unlikely the company would have ordered so few: presumably Apple set the allocation.
Wipe Your Mouth
The press continues to slobber all over the iPad. Cory Doctorow offers a sanguine explanation in his controversial essay (894 comments and 4300 tweets so far), "Why I won't buy an iPad (and think you shouldn't, either)." Doctorow writes that "I think that the press has been all over the iPad because Apple puts on a good show, and because everyone in journalism-land is looking for a daddy figure who'll promise them that their audience will go back to paying for their stuff."
Among the excited journalists are John Boudreau of the onliine edition of the San Jose Mercury News, who begins his April 5th coverage with "Sales of Apple's new iPad tablet matched the hype leading up to its launch with more than 300,000 sold on Saturday in the United States, the first day the device was on store shelves," but completes his lede with "the company (Apple) said Monday." He's already on the list for an invite to the next Apple event.Why highlight third-party unbiased reports when you can quote a more reliable source: Apple Computer?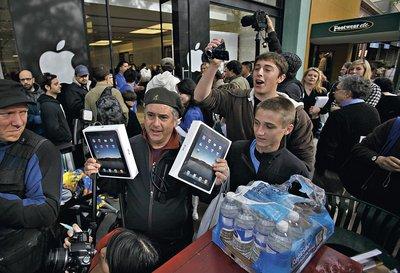 "I'll take two!"  Photo by Pauline Lubens, San Jose Mercury News
A site from the UK, bigmouthmedia.com, in the business of search engine optimisation, e-marketing  and internet marketing, concurs with the San Jose Mercury Newsvia its headline: "iPad sales defy naysayers and meet expectations," although the content of the brief entry mainly reprints material from a New York Times article.
I think the award for unadulterated foaming-at-the-mouth coverage must without doubt go to Wired online, which going back to last year has so far published 164 stories about the iPad.
A financial journalist named Jim Woods, listed as a contributing editor at InvestorPlace.com, somehow extrapolates that the 300,00 is just an early guess. In his blog he writes: "Industry analysts estimate that Apple sold between 600,000 and 700,000 iPads in just two days. If this figure holds up [Ed: Even though few brick & mortar stores were open on day two], it would easily best the 500,000 many pundits on Wall Street were hoping for in order to declare the iPad an opening weekend success."
I'm not certain where he conjured all that from. Perhaps from Piper Jaffray's analyst Gene Munster. In a blog entry Munster is quoted without a smirk by Fortune's usually down-to-earth Phillip Elmer-DeWitt, "In a report to clients issued Saturday night, Munster's estimated that by midnight Sunday, Apple will have sold 600,000 to 700,000 iPads." (Elmer-DeWitt notes in his own byline, "(the author) believes that an ounce of skepticism never hurts when writing about [Apple]." I guess his skepticism took a day off.)
Next Day Note: Elmer-DeWitt wrote to point to his entry of April 5th, titled "Predicting iPad sales: How close were the analysts?" He focuses on Munster's blooper (particularly unfortunate as, according to Elmer-DeWitt, Munster "predicted four days earlier that Apple would sell 200,000 to 300,000 iPads over the course of the weekend, (and then) more than doubled his estimate to 600,000 to 700,000 Saturday night after he saw the size of the launch-day crowds." Faith in journalist restored.
I've searched without success for the story about the the 700,000 disappointed American children when they found out that "due to unforeseen family circumstances" this year's Easter Egg Hunt had to be canceled.
Some Contrary Views
Speaking of Gene Munster, in a blog entry today called "Ipad sales fall short of estimates," Nick Farrell at TheInquirer.net ponders whether "there (were) any sackings at Piper Jaffray where analyst Gene Munster had predicted Apple would sell 600,000 to 700,000 units?" Farrell, inspired by an article in today's Wall Street Journal titled "First-Day Sales of Apple's iPadFall Short of Sky-High Hopes," ended his coverage with:
Now the WSJ is telling us that "how well the iPad will sell in the long term will likely stay unclear for at least another few quarters…"

In other words, some of Apple's biggest products have previously had relatively slow starts… please don't fire me for sacrificing media integrity and peddling Apple press releases for six months.
The same WSJ article points out that in the "Make Fools of the Analysts" game there's more fun to come. "Estimates for global iPad sales this year ranged from 2.5 million by financial-services firm Kaufman Bros. to as high as 7.1 million by research firm iSuppli Corp," the paper reports. iSuppli's tagline is "Applied Market Intelligence," and its intelligence apparently allows it to predict the future. A press release on its site states that "sales will double to 14.4 million in 2011 and nearly triple to 20.1 million in 2012." Zowee! Hype springs eternal.
My final word tonight from the hype department is again courtesy of TUAW, which reported that some crazy fool an iPad enthusiast on eBay paid $5,000 (USD) for the $700 64GB model.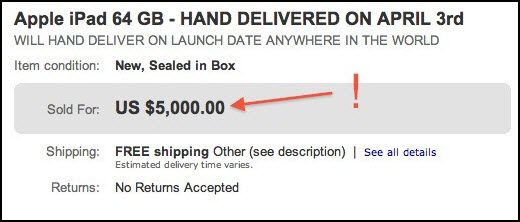 Source: TUAW.com
As of tonight, the top price for the same model on eBay is $1,299, with free shipping in the U.S.
Perhaps the mania will soon cool off. Sam Diaz, a senior editor at ZDNet, concluded his blog entry today with "I really want to like the iPad but let's be honest about it — it doesn't bring anything new. For the money — and the hype — it needs more."
PS: Early in Cory Doctorow's essay noted above is a reference to another great take on the "existential problem" (my description) of the iPad. An entry in Danny O'Brien's Oblomovka blog called "cd-roms and ipads" offers a dazzling comparison between the time (in the mid-80s) when media companies flocked like lemmings to publish on CD-ROM, hoping for digital salvation. He makes a bulls-eye comparison to the media ambitions for publishing on the iPad. His piece is an essential contribution to the endless iPad controversy (and hype). "We assumed these people knew what they were doing. God knows we knew we didn't have a clue," he writes.
Is any individual or team fully confident of their iPad strategy today?
UPDATE, April 8, 2010: In today's WSJ, at the end of a report on the upcoming new version of the iPhone OS, "Mr. Jobs also said Apple has sold more than 450,000 iPad tablet computers in the U.S. since the device went on sale Saturday."