November 27th, 2009
For the last two days I've been reading a good old-fashioned paperback novel. Written by Steve Hely, published by Grove/Atlantic, Inc., it's called "How I Became a Famous Novelist." I don't remember how I first heard about it, but I ordered in from the West Vancouver Public Library and picked it up yesterday. As was promised by the press coverage it is hilarious, a brilliant satire of the world of bestselling authors.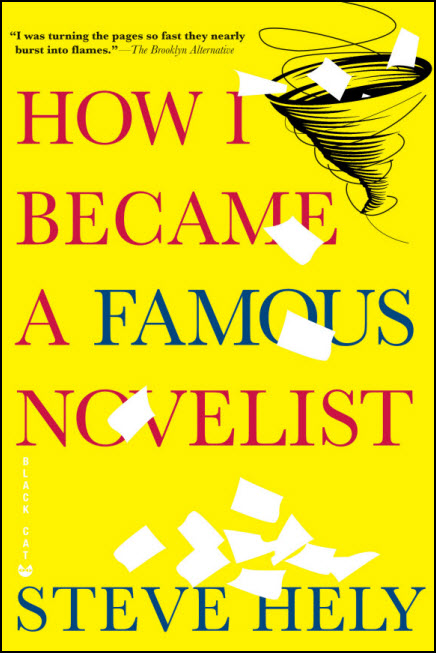 Yet, I've now realized, the book reveals two reasons why paper is more dangerous than Kindles (and presumably other eReaders). The problem stems from turning paper pages too quickly. On page 23 of the book the fictional narrator, a hack writer of essays for illiterate college students, becomes upset at a series of profiles in The New York Times on bestselling novelists. He reads a few, and then in disgust turns a page so fast that he gets a paper cut. That WOULD NOT happen on a Kindle!
To make matters worse, the glowing endorsement on the front cover of the paperback, credited to The Brooklyn Alternative, states: "I was turning the pages so fast they nearly burst into flames." I've investigated and apparently they did not in the end burst into flames, and the reviewer suffered neither physical nor psychological trauma.
But keep this in mind. You can turn pages as fast as you wish on a Kindle (actually one of the complaints about the device has been that screen refresh is a little slow, but let's ignore that quibble) without ever worrying about this eReader bursting into flames. I can't even find any complaints about overheating: it's a low energy device.
So this Christmas, as you consider purchasing Mr. Hely's marvellous "How I Became a Famous Novelist" from Amazon for $10.08 (same at Barnes & Noble if you've got a membership), or buying your loved ones a Kindle for $259, just keep in mind that the Kindle may be safer, but "How I Became a Famous Novelist" has not yet been published as an eBook.