April 28th, 2009
The title of this entry is tongue-in-cheek (at least I'm keeping my tongue in my mouth), as I just discovered Zinio's little-publicized side venture: Undercover Mags. If you go to the site by clicking on this link, it will take you to the magazines deemed of interest to heterosexuals, and you'll be greeted with a not very discreet screen of revealing anatomical images: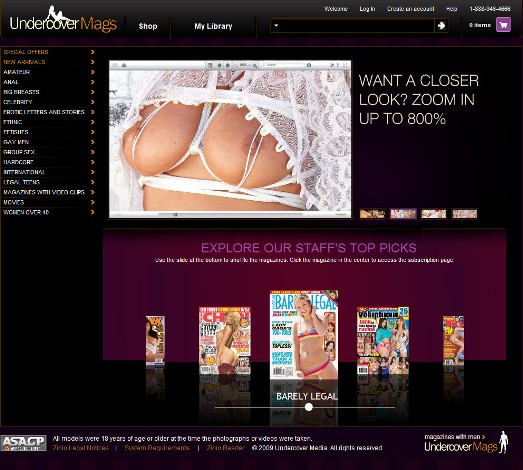 If you go to their alternate site for the gay community, you'll also be greeted with revealing images, a little too revealing for me to post, and a wide selection of digital magazines organized under categories like anal, black, hairy, hunks, jocks, legal teens, etc.
Zinio doesn't appear to be completely hiding it's involvement with the site: its name does appear in small print on the bottom of the home page.
But I wonder if the publishers of Reader's Digest, Parenting Early Years, Parenting School Years, Cosmopolitan Bride and American Cowboy are aware of their "alternate interest" publishing colleagues?